Yep, every hand in the room, just what I thought. It's no secret that digital media has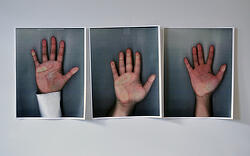 experienced exponential growth since Al Gore invented the Internet. And by now each and every marketer throughout the land, the entire land, has heard of and is trying to figure out the best practices for instituting digital media into their business. Either for themselves or their clients. So on the surface this isn't anything new. Here is what's new: for the first time digital media consumption (not advertising) has overtaken traditional media.
So while newspapers have predicted their own death for the past five years and everyone, and I mean everyone, has been harping on publishers for not adopting models that monetize digital since, again, Al Gore invented the Internet, now all traditional media better pay closer attention to what's happening. It's time for television to take a hard look at what their networks are doing in terms of disseminating their content and making a transition to digital.
One traditional media form, out-of-home, a.k.a. billboards, bus stops, bathroom ads, etc., has already integrated digital media into their platforms in the form of making digital versions of each of their outlets. Have you seen one? Chances are you've seen the marquis or the screen behind the batter during Major League baseball games, and hopefully you're a quick reader because you only have about three seconds to catch the ad.
Either way, the consumption of digital media is forecasted to reach new heights, with a total daily time spent of more than five hours, PER DAY. That's a lot of Words with Friends. Regardless of how many games you might have going on at once, you have to try really hard to spend five hours expanding your vocabulary. I shouldn't forget about Facebook . . .
When it comes to breaking down the time spent, the dual screen phenomenon is certainly contributing. For instance, included in eMarketer's prediction is the assumption that an individual watching TV AND tweeting on their tablet counts as an hour with the boobtube and an hour with their tablet. To make matters worse for traditional television providers, namely cable and satellite, IPTV continues to steal market share.
MediaPost reported last week that both cable and satellite providers are losing subscribers to households moving to Internet Protocol television (IPTV).
| | |
| --- | --- |
| | "In the second quarter of 2013, U.S. pay TV providers shed 352,000 subscribers, according to IHS, due mostly to a loss of 588,000 cable subscribers and 162,000 satellite subscribers." |
If you do the math, and consider each subscriber is worth somewhere between $75 and $200, that will make a difference on the balance sheet. While some may think these are all households moving to Apple TV or Hulu Plus, MediaPost reported IPTV added 398,000 subscribers in the second quarter. And don't sleep on Netflix, as they continue to build out their stable of television style series including House of Cards, Arrested Development, Orange is the New Black and Bad Samaritans.
What it comes down to is you need to know how to integrate traditional and digital media. Digital will continue to grow, but we all know that can't be your only strategy for success. Traditional media will never completely go away. If you're interested in learning how you should build a successful campaign that includes print and digital, check out our eBook titled 'The CMOs Guide to Integrating Print and Digital.' If you want to go strictly digital, you need to reach local audiences. We have a great starting point for that, too. Download 'The Smart Marketer's Guide to Local Digital Advertising.'
Scott Olson is the director of marketing at Mediaspace Solutions. His career has spanned marketing positions in the non-profit, software and utility sectors providing various marketing experiences. You can connect with Scott on Facebook, Google+, Twitter or LinkedIn.
Hands photo courtesy of Stina Johnson on flickr.