Today marks the opening of the 2013 National Football League season, the day local market football fans all across the country are filled with hope and optimism for their team and Super Bowl glory. For the past month those same rubes across the country (the world?) have been gathering for fantasy football drafts to build their team, win oversized trophies their wives won't let them display in a prominent location in their home, and rub it in the faces of their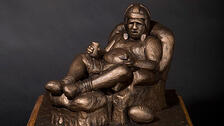 friends. Now those of you who have participated in these drafts know there are a few cardinal rules to building a successful team:
Get the number one overall pick

Avoid your local team's rival players like the plague

Go running back, running back in the first two rounds

Grab a hometown guy so you have someone to root for on Sunday
OK, those middle two might be a little subjective but the first one is almost always a guarantee (barring major injury) for some level of fantasy success. The last one, however, is something I've heard at nearly every fantasy draft I've been a part of for the past 12 years. When it comes to selecting that hometown boy, there are a number of factors influencing that decision. Let me elaborate.
In many markets, mine included, the football never really ends. While baseball might be America's past time, football is the sport that seems to have the most passionate fans. Even in 'The State of Hockey,' in which I live, the following of the Minnesota Vikings is larger and more polarizing than the Minnesota Wild. Who should be the starting quarterback? How many wins will the team have? Can we beat Green Bay, Detroit and Chicago to make the playoffs? What about the wild card? Who's going to be the third string mike linebacker and special teams specialist? I know, it's ridiculous.
Those questions get asked and answered all year. Another thing that happens all year is the constant marketing and advertising of the team. Whether it's 'The Home of the Minnesota Vikings' on the radio; newspaper advertisements for season tickets featuring Adrian Peterson, the face of the franchise; television spots showing touchdowns, sacks and interceptions; or banner and display ads on local market web sites, the bombardment never stops. So let's get back to the fantasy football draft for a minute.
With all this local marketing to build hype leading up to today, we are exposed to players we might otherwise never imagine adding to our fictional football team. All that local marketing has influence, and the repetitiveness and bombardment of that messaging has influence when it comes to the middle rounds of the draft and we're deciding between Jerome Simpson and James Jones. In Minnesota, the answer is simple. No one wants a third string Packer when you can take the flash of a guy who literally jumps over people and wears the purple and gold, regardless of whether or not he ends up catching even 10 balls all season. So with all that said, who did you reach for in your draft as the result of the constant inundation of local marketing?
Sports franchises are one group who seem to have figured out the value and benefits of local marketing and advertising, and the necessity of hitting markets and consumers where they live. If you want to learn more about how to accomplish local marketing like an expert, download our 'Smart Marketer's Guide to Local Digital Advertising,' and get started today.
Scott Olson is the director of marketing at Mediaspace Solutions. His career has spanned marketing positions in the non-profit, software and utility sectors providing various marketing experiences. You can connect with Scott on Facebook, Google+, Twitter or LinkedIn.