I recently came across an AdAge infographic outlining America's 25 biggest advertisers. Included below are advertising tips from the top three advertisers of 2012: AT&T, Verizon and Chevrolet.
AT&T
AT&T was the most-advertised brand in 2012 spending nearly $1.6 billion across television, radio, print, outdoor and Internet display advertising. With such a large advertising budget, the phone company was able to utilize various media vehicles to reach the masses with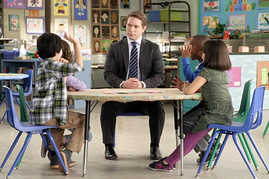 great frequency. AT&T has been a dominant advertiser in 2013 as well, largely due to the success of the "It's Not Complicated" campaign released last spring. AT&T relied on kids who say the darndest things to help communicate the size, speed and value of the AT&T network. The company closed each commercial with something like "faster is better," "bigger is better," and "saving is better," in an effort to persuade consumers to make the switch to AT&T (or remain loyal if already a customer). The takeaway tip from AT&T is that it's not complicated to be the best, it just takes good communication. And of course, you can never go wrong with a handful of cute kids.
Verizon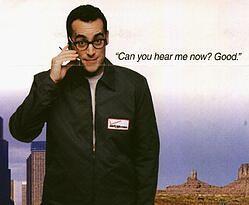 Not far behind was Verizon at $1.43 billion, down 13.6% from the previous year. Perhaps Verizon spent a significant sum on advertising because they were trying to chase down the competition. AT&T, can you hear Verizon now? Earlier this year, we featured Verizon in a targeted advertising blog post after the phone company filed a patent that would enable them to "watch" TV viewers and deliver targeted ads based on the type of physical activity detected by infrared cameras and microphones. Although the patent was rejected by the United States Patent and Trademark Office, the idea shows that Verizon is focused on delivering the right ads to the right consumers at the right time. Whether or not you agree with this big brother approach, Verizon knows the power of technology and how to use it to improve the success of their advertising campaigns.
Chevrolet
Chevrolet outspent the other automakers with a total media spend of $958 million in 2012, so this company wins the automobile advertising race. Let's play a little game. I say "Chevrolet," you say "______." Did you say "Like a Rock" or "An American Revolution" or "Heartbeat of America"? Although the company has changed its slogan over the years, it relies heavily on American values to sell its cars and trucks. The 2012 Super Bowl featured five Chevrolet commercials, so it's safe to assume the automaker spent a good chunk of the 2012 advertising budget during the big game. All the big brands want in on the game day action, but Super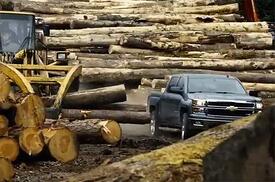 Bowl spectators aren't everybody's target market, so it's not always a good investment. But for Chevrolet, it makes sense. Football is an American pastime, just as Chevrolet is an American automaker (some even consider it the American automaker, but we're not going to get into that here). The Super Bowl audience skews male, which is why it makes sense for Chevrolet. Chris Perry, U.S. VP-Chevrolet marketing, said the latest Silverado campaign is targeting "the folks that have always bought pickups" and features an American man who "ain't just tough, he's strong." Chevrolet is a good example of a company that knows its target market and how to reach them both during the game and on a deeper level.
If those advertising tips weren't enough for your insatiable palate, we've got more in the form of eBooks. If you want tips on how to reach the consumer groups with discretionary income, we've got you covered. Download "Proven Methods for Reaching Affluent and Educated Consumers." We also have tips on how to use both print and digital media in your next advertising campaign. Download "The CMO's Guide to Integrating Print and Digital Media" and learn how integrated advertising campaigns can help you reach more consumers.
RELATED POSTS:
Image credit: The Daily Beast, Ad Rage and Detroit Free Press
Hannah Hill is a marketing specialist at Mediaspace Solutions. Her marketing experience includes writing, inbound marketing, social media and event management. You can connect with Hannah on LinkedIn, Facebook or Google+.