For the last two weeks we've been telling you about the importance of newspaper advertising and why marketers need to be including print publications in their mix. We started by focusing on newspaper publications' readership and how people engage with newspapers. Then we took a look at the third and fourth reasons newspaper advertising is powerful: people trust newspapers and take action on advertisements in the papers. While these things certainly ring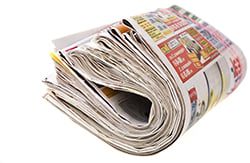 true every year as people look forward to the bountiful ads spilling out of their Thanksgiving Day paper, this year the newspaper is playing an even more integral role in holiday shopping.
'Why?' you may be asking. I'll tell you: you have less than a month between Black Friday and Christmas Day. That's right, with Thanksgiving being Nov. 28, the official start of the holiday shopping season starts a week late, giving all us procrastinating dudes even less time to think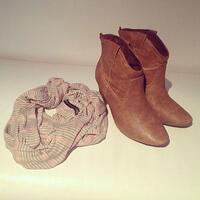 about what to get our wives just to go to the mall Christmas Eve and pick out a scarf she'll probably keep and some boots she'll most likely exchange. But hey, it's the thought that counts right? Actually, according to the Newspaper Association of America, 2013 could be the most important Black Friday ever.
The reason for this year's importance is two-fold: one, the government shutdown has left the prognosticators predicting a two percent decrease in spending. That's not music to anyone's ears in the retail business, and it also makes the dollars available even more important. Which leads to the second reason Black Friday is the real deal this year: advertisers are going overboard in an effort to secure each and every dollar they can for their brands and stores, so much so that Walmart actually started running Black Friday deals Nov. 1. Talk about holiday creep.
With all this talk about Black Friday and the upcoming season there are a couple things to remember as advertisers gear up for this final push. The first is that newspapers still drive massive action for consumers. As I've said before, don't take my word for it, just look at the research: 81% of consumers acted upon a newspaper ad. That's exposure advertisers would be hard pressed to get in any other form of media.
The reason for newspapers' effectiveness is also backed up by the numbers as 63% of adults in the United States list newspapers as the ultimate holiday shopping guide and the most effective way to learn about Black Friday deals. Right behind the 63% who say the local newspaper is their ultimate guide to Black Friday are the 47% who use local newspaper websites. Clearly anyone who says print and digital don't complement each other is on something, certainly not onto something.
Think about your lead-in to Thanksgiving and Black Friday? Where do you turn? And do you consider yourself the norm or the exception? Answering those questions for yourself should help you understand how others in your demographic probably act. Take the boomer audience for example, they are already the group who most consumes newspapers, and that certainly won't change as Black Friday approaches.
We've developed a piece to help you understand the boomer audience in particular and their value to your campaigns. If you need more convincing that this is a good group to target, download our eBook by clicking the button below.
RELATED POSTS:
1. Why Your Ads Better Be in the Newspaper for Black Friday
2. Why Your Ads Better Be in the Newspaper for Black Friday - Part 2
3. Advertisers Use Mobile Advertising to Boost Holiday Sales
4. Newspaper Ads Capture Attention With or Without Content
5. What if Retail Advertisers Achieve ValenPatIndeB2SHalloThanksMas?
Scott Olson is the director of marketing at Mediaspace Solutions. His career has spanned marketing positions in the non-profit, software and utility sectors providing various marketing experiences. You can connect with Scott on Facebook, Google+, Twitter or LinkedIn.