Any American business knows the value of drawing customers to their doors (or e-doors) on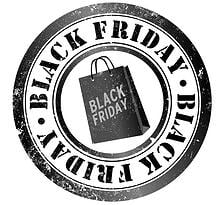 Black Friday and Cyber Monday. Last year, the National Retail Federation reported that Black Friday recorded nearly $60 billion in sales, with the average shopper spending more than $400. Some retailers have found the best way to maximize sales is to open the doors earlier and earlier, but crafty businesses have found a way to utilize social media to draw in customers without needing to extend their hours. How can social media work for you on Black Friday and Cyber Monday?
Make It Mobile
Between deal-seekers waiting in line on Black Friday and keyboard warriors clicking around on Cyber Monday, more companies this holiday season will be investigated via social media on a mobile platform than ever before. ComScore notes that Facebook recently took the No. 1 spot for mobile apps, leapfrogging arch-rival Google. Make sure your social page shows up on iOS, Android and Blackberry mobiles, with streamlined features that don't take too long to load or reply to. If you can release an app for your company's shopping, that's even better. A simple app that allows customers to easily navigate content or find a store is ideal and lets your customers know you are available for them on any platform.
Use Every Platform
Your company likely has a Facebook page for users and customers to connect, and perhaps a Twitter account to directly send updates out to followers. While these two social media titans deserve the most attention, your company should pursue every social media avenue available to get the most viewers. Pew Internet reports that between six to 20 percent of adults use secondary social media sites like Pinterest, Tumblr, LinkedIn and Instagram. While this is only a fraction of the users for Facebook and Twitter, it represents an additional audience that you can connect with once you have filled your customer's feeds up to the brim. Create relevant and interesting posts that will keep customers loyal and draw in a new audience. Pay close attention to your social media presence. You can even promote sales, specials and exclusive content for fans.
Create Social Media Displays for Waiting Customers
Waiting in line to get into a store is a Black Friday tradition for the shoppers who brave the cold and the crowds to get great deals. While they are eagerly awaiting your store's opening, create interactive social displays for them to either connect to on their mobiles or keep

tucked away in their memory. Retailers like Macy's use these displays for Black Friday marketing, so that customers who shop at Macy's get firsthand info about new deals. These retailers' interactive displays include Twitter hashtag searches for new products, Instagram pictures on rotation, YouTube videos about products, QR codes that lead to a mobile site or information, Vine videos or a running tally of Facebook likes.
Respond Early and Often
Some social media updates merely throw a product description out into the world without care for its responses. Even if your social media team is swamped come Black Friday or Cyber Monday, posts without follow-through represent a lost opportunity. The fewer responses a company provides to their customer's inquiries, the less these customers want to buy the product. New York consulting agency Mr. Youth released an infographic study noting that only half of all brand statuses reply to their followers. A company that does its best to reach out, update information and thank customers gets much greater social interest than the digital equivalent of a dial tone. Ultimately, the more versatile and accessible you are to your customers, the happier they will be and the bigger your holiday season revenue.
Engaging with affluent audiences can be the key to your Black Friday success. Take a look at why you should be targeting boomers and the most effective methods for reaching affluent and educated consumers.
RELATED POSTS:
1. Give Thanks for Mobile Coupons
2. Retail Advertisers Can Apply the #Hashtag to Maintain Momentum