Another Black Friday has come and gone and if you're like me you took the easy way out, much to the chagrin of retailers and advertisers who spent a bundle prepping for the big day. Not to be a total scrooge when it comes to the biggest shopping day of the year, I did enjoy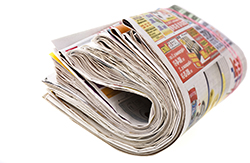 all the ads that came in my Thanksgiving edition of The Star Tribune. I must say, the ads had to be at least equal to the edit.
All that, and retailers still saw a 2.9 percent drop in terms of in-store sales at bricks-and-mortar locations. More people probably decided to take the same route I took. Read the ads (my favorite was Menards as I'm trying to establish an opportunity to lay claim to a larger man card by demonstrating my ability to acquire tools I may not know how to use), take a look at all the deals, and recognize there isn't anything I can't live without, or anything I won't be able to buy the people on my list at a later date.
Still more folks were taking a different route this year: keeping their pajamas on while shopping during the wee hours of the night and choosing to sit in front of their fireplaces or on their couches instead of waiting in lines or braving the midnight cold behind the wheel and their foggy windshield. Which would you choose?
According to IBM Digital Analytics Benchmark Black Friday Report 2013, online sales increased 19.7 percent compared to 2012 on Thanksgiving Day. In case you weren't aware, that's the day before Black Friday, when you're supposed to be spending time with your families eating turkey and watching football. Unless, of course, you work at one of the retailers who have decided a 2.9 percent in-store decrease is worth opening its doors for. Then you're working.
Getting back on track, people who were full of turkey and ready to hide from their family in the basement brought their laptops, tablets and smartphones with them so they could get a jump on the shopping. When you download the report and take a look at it, you'll see the sales peaked at 7:25 p.m. Thursday, after most of us had stuffed ourselves, took our naps, woken up and became uninterested in the discussion around Cousin Tammy's new boyfriend. As the clock ticked past midnight and Black Friday officially began, retailers experienced another jump compared to 2012; this time to the tune of an 18.9 percent increase versus the previous year.
According to the report, smartphones and tablets play an ever more important role in helpingretailers achieve profitability. Check out Page 7. There you'll see site traffic was double on smartphones compared to tablets but when it came time to purchase, the iPad was within reach as the tables were turned in terms of device use. Tablets also scored when it came to total purchase price with a $132.75 edge compared to $115.63 for smartphones.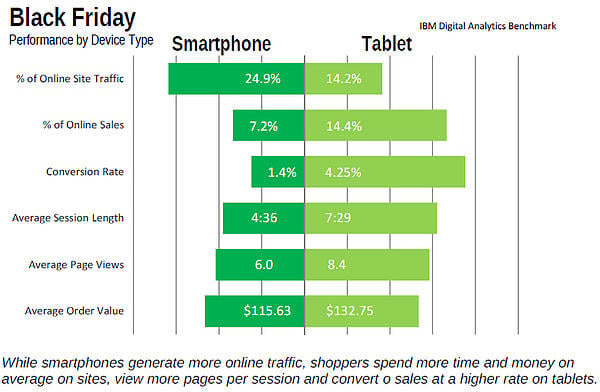 As we wrap up this Black Friday/Cyber Monday/Giving Tuesday week, let me leave you with one nugget you probably didn't already know: shoppers referred from Pinterest spent 77 percent more per order than shoppers from Facebook. That's a sizable difference and a testament to know where your customers are and how to reach them.
Speaking of where your customers are, chances are pretty good they are local, and the more localized you can get your advertising, the more success you will have in the long term. We wrote the (e)Book on local digital advertising and we'd like you to read it. You can download it now and read through it as you're finishing up your 2014 advertising plans.
RELATED POSTS:
1. Newspaper's Integral Role in Black Friday Advertising
2. Advertisers Use Mobile Advertising to Boost Holiday Sales
3. Capitalize on Black Friday with Social Media
4. Why Your Ads Better Be in the Newspaper for Black Friday
5. Why Your Ads Better Be in the Newspaper for Black Friday - Part 2
Scott Olson is the director of marketing at Mediaspace Solutions. His career has spanned marketing positions in the non-profit, software and utility sectors providing various marketing experiences. You can connect with Scott on Facebook, Google+, Twitter or LinkedIn.