Tonight is the night for the big New Year's Eve countdown in Times Square. It is hard to believe another year has come and gone. Maybe it was a good year for your business, maybe it wasn't. Regardless, the end of the year is usually a good time for advertisers to evaluate the year's performance and set goals for the future. So before you put on your party clothes and start pouring the champagne, take a look at the countdown below to ensure your first 2014 advertising campaign kicks off with a bang.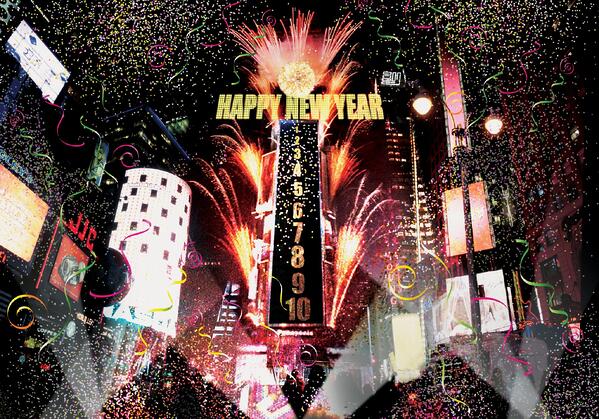 10. Fine-tune your target market
Take a minute to reflect on your target market and redefine it if necessary. You should know where they live, what they eat, when they sleep, where they get their news, the list goes on. Knowing this information doesn't make you a creeper. It makes you smarter so you can develop more targeted advertising campaigns.
9. Generate positive word-of-mouth
Whether you generate positive word-of-mouth through stellar customer service, high quality products, philanthropy or innovative advertising, it's going to do great things for your business. Think about the last time you were impressed with a brand or business and shared your feelings with the Twitterverse. Do what you can to make it happen to you.
8. Take advantage of social media
There's an abundance of social media platforms on the Internet that continue to suck up every spare moment of our time. Find out which networks your target audience is hopelessly devoted to and then increase your company's presence on those networks by sharing engaging content.
7. Determine the right media mix
Chances are your target audience consumes more than one type of media, just like you and me. Figure out what media channels they are most receptive to and then put together a well-balanced campaign. The right media mix will greatly improve the success of the campaign.
6. Maximize your advertising budget
If you asked the kids from the AT&T commercials which is better: more money or less money, they would shout a resounding, "MORE MONEY!" When you work with a media buying agency like Mediaspace Solutions, you'll get better ad positioning for less, which means you'll have more money to devote to your next advertising campaign.
5. Integrate print and digital
Why not kill two birds with one stone? Use the same ad copy or theme in both print and digital formats for consistency's sake and boost overall awareness for your product or service. Print and digital media are complementary, just like peanut butter and jelly, so use them together for best results.
4. Use a stronger call-to-action
You could have the most beautiful ad, but if consumers are unclear what you're asking them to do, they will do nothing at all. Increase the urgency of your CTA and get consumers to act now, not later.
3. Get local
When you narrow your focus to the local market, you can target consumers more effectively. Mediaspace has helped many national advertisers achieve their advertising goals by going local. Consider advertising on local newspaper websites instead of ad networks to see better click-through rates.
2. Do something different
Go out on a limb. Take a risk. Think outside the box. Whatever you do, do something that'll get you noticed.
1. Clearly communicate your point of difference
Knowing what separates you from your competitors is only half the battle. You need to clearly communicate your point of difference throughout your advertising messages. Take a look at one of the ads you ran last year and see if that benefit comes through. If not, it would be in your best interest to make it more visible in your 2014 advertising campaign.
I know this stuff isn't rocket science, it's even more important. As you count down to 2014, go through this list and make sure you've got all your bases covered from fine-tuning your target market to clearly communicating your point of difference. Download 'The Smart Marketer's Guide to Local Digital Advertising' and 'The CMO's Guide to Integrating Print and Digital Media' for some additional advertising advice. May your 2014 advertising campaigns exceed your expectations. Cheers and Happy New Year!
RELATED POSTS:
Hannah Hill is a marketing specialist at Mediaspace Solutions. Her marketing experience includes writing, inbound marketing, social media and event management. You can connect with Hannah on LinkedIn, Facebook or Google+.