As a business owner, you're constantly looking for ways to create scalable, repeatable marketing processes and to ensure each campaign is relevant to your target audience. Leveraging the mounds of data at your disposal will help you achieve these objectives.
What is Data-Driven Marketing?
Data-driven marketing is the strategy of using customer information to personalize each message along the buyer journey. Data-driven marketing answers the questions who, what, and why and makes these answers actionable.
When insights are pulled from data analysis, you can form predictions about future consumer behaviors. This allows for better creatives as well as automation of engagement.
Data-Driven Stats
According to Econsultancy and IBM, 33% of marketers surveyed said having the right technologies for data collection and analysis is invaluable in understanding customers.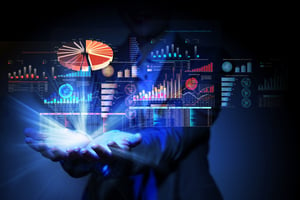 And, in research conducted by Ascend2 and Research Partners, marketers said their most important data-driven marketing
objectives were:
Basing more decisions on data analysis (51%)
Acquiring new customers (45%)
Integrating data across platforms (43%)
Enriching data quality and completeness (37%)
Forbes found that 88% of marketers surveyed use data to enhance their understanding of customers. The same study found marketers using 66% of data to optimize offers, messaging and content.
Forbes surveys have also found that companies who adopt data-driven marketing are more likely to gain a competitive advantage. In fact, data-driven marketers are six times more likely to be profitable year-over-year.
Benefits of Data-Driven Marketing
We've covered what data-driven marketing is and some specific statistics on the growth of this strategy. Now let's take a look at some of the fantastic benefits data-driven marketing offers enterprises:
Personalized Campaigns
Today's consumers are in total control of the dialogue with brands. They do not want to be sold to; instead they want a completely personalized experience from top to bottom of the sales funnel.
The data mined from technology platforms helps marketers create a singular, holistic picture of a consumer audience. Data-driven strategies allow enterprises to develop proactive action plans that maximize consumer engagement.
Get Messaging in Front of the Right Crowd at the Right Time
Beyond being incredibly discerning and savvy, today's consumers are also constantly connected. While this is theoretically a good thing, it also means consumers are constantly bombarded with digital noise. That's why personalized content is so effective, because it breaks through this constant din.
But personalization in itself is not enough. You've got to get that content in front of the right people at the right time. By scanning huge data sets, AI marketing solutions can quickly and easily identify where consumers are spending most of their time (apps, social networks) as well as where they are most likely to convert (banner ad vs sales page). Add to this the ability to leverage automated messaging that is triggered on a specific behavior and you understand the real power and value of data-driven marketing.
More Informed Business Decisions
To get the biggest return on your investment, you've got to know exactly what has been working and what hasn't. This kind of detailed insight will help keep your marketing team successful and moving forward. Without data, each campaign is a bit of a shot in the dark. With data, you can make informed business decisions that drive consumer engagement and ultimate growth.
So, is Data-Driven Marketing Just Hype?
In two words: no way!
For organizations of all sizes, data-driven marketing is necessary to compete and thrive in a constantly-evolving consumer landscape.
Are you using data to your advantage? Or do you feel overwhelmed at the mere idea of collecting and analyzing all of it?
If you're interested in data-driven marketing but don't have a clue how to get started, get in touch with us. We help small and medium-sized business harness the power of data to increase customer activity and improve conversion rates. Call us today.