Sometimes it seems like doctors need to go to school for an additional 8 years just to master the art of marketing. As if they don't have enough to do with treating patients and cutting through bureaucratic red tape, doctors must also constantly drum up new business.
This holiday season, we thought the best gift we could give you are some of the most effective marketing ideas our healthcare clients have used to successfully engage their prospects turn them into new patients.
Email Marketing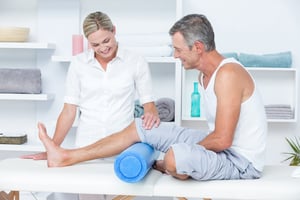 Much research has concluded that email marketing is among one of the most effective tools for brand awareness, retention and new customer acquisition. Email marketing is an affordable and easy-to-implement strategy. You can also easily personalize messaging, so it makes a greater impact on the reader.
This holiday season, you may want to share some important health information your prospects would find valuable, like how they can stay healthy during the winter season, or how they can detox after holiday binge eating. Be sure to use festive email templates and images to put prospects in a holiday frame of mind.
Charity Drives
Think Toys for Tots, canned food drive, or gifts for the local animal shelter. Offer a discount on services to those patients who donate a gift for your charity of choice. Talk about a win/win/win: you get more patients coming in the door, your patients get a healthy discount, and needy kids, families and dogs and cats get the gifts and food to make their holiday special.
Holiday Facebook Sweepstakes
Facebook giveaways are an excellent way to attract patients who may never have heard of you before. You'll need to spend a little up front to purchase whatever it is you are giving away (Kindle, scratch-off tickets, dinner for two at a local restaurant), but it can really pay off.
Consider using contest software such as Wildfire to manage the sweepstakes or keep it simple and just use Facebook advertising. You'll quickly grow your followers and reach new potential patients.
Gift Certificates
Gift certificates can be especially effective when your practice offers attractive services. For instance, a dentist may do well offering gift certificates for teeth whitening services. A chiropractor may offer gift certificates for Reiki and/or acupuncture sessions. To really ramp up this strategy, think of how you can offer an extra incentive to get patients to purchase a certain amount. An example would be on purchases of over $100, you would include a free teeth cleaning or sample of an essential oil.
The Power of Video
Are you a pediatrician who dresses up like Santa each year? Do you go all out on decorations around your office? Do you and your staff go caroling around your little shopping plaza? This is a great time of year to spread some holiday cheer and capture that cheer on video!
Use Instagram and Youtube to show off your holiday spirit. People are attracted to healthcare providers who come across as kind, gentle, and human, so these kinds of videos can go a long way in your advertising efforts.
The great thing about these ideas is you can use them all year long with just as much effectiveness. Email marketing works any time of year, charities always need help, sweepstakes giveaways and gift certificates are always popular, and consumers enjoy seeing providers be human on video any time of the year!
If you have any questions about holiday marketing ideas for your medical practice, or you simply want to learn more about what Media Space Solutions can do for you, give us a call at 888-672-2100.