The famous saying is, "Big things come in small packages." While that can be true, sometimes big things come in BIG packages, as in the case with BIG data.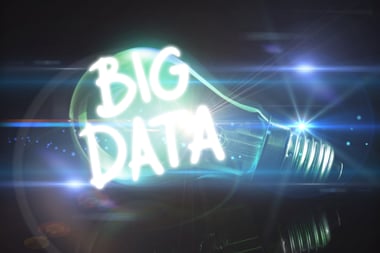 What exactly is big data? According to Investopedia: "Big data refers to the large, diverse sets of information that grow at ever-increasing rates. It encompasses the volume of information, the velocity or speed at which it is created and collected, and the variety or scope of the data points being covered. Big data often comes from multiple sources and arrives in multiple formats."
But what is it exactly that big data can do for business owners? Once mined and analyzed, big data offers powerful incites that can lead to additional sources of revenue. Bottom line is big data can be the key difference in allowing you to compete and win against your rivals.
Now you might be thinking at this point, "That sounds great. But I'm just a small, local business. I don't have a lot of money or manpower to mine and analyze all of this data." The truth is, it doesn't matter if you have a large volume of user data at your immediate disposal, or if the data you do have access to is segmented by user interest, demographics, or other consumer behaviors. Business owners can still use a broad range of data analytics tools and third-party software to help them make smarter, actionable business decisions.
With this in mind, here are some ways small businesses can start leveraging BIG data:
Look to Social Media
Most business owners recognize they need to engage with customers and prospects on social media, but they completely forget to use social media to glean data. Your Facebook and twitter pages are where your audience puts forth their needs and questions. How is your audience connecting with your content? What do they say about your business? What are they struggling with?
By listening to these online conversations, you can easily analyze social data to understand your customers' preferences and behavior better. This will help you customize products and add value to your services to give customers a more personalized experience.
Use Free Analytics Tools
You don't have to spend a lot (or anything) to analyze data. Free tools such as Google Analytics are useful at uncovering marketing opportunities. While it will take a bit of time to fully understand what's 'under the hood' of free analytics tools, once you do, you can easily track customer behavior and identify industry trends, as well as drill your audience's demographics, interest, and age range to better target prospects.
Redevelop Your Marketing Strategy
Once you uncover data, then what? Well, your first 'to-do' would be to redevelop your marketing strategy.
Big data is useful because it helps you make more informed (AKA better) decisions. Once you begin to uncover your customers' needs and purchasing behaviors, you'll better understand how to use messaging to target them.
You may also realize that the marketing channels you've been using are not quite right. Perhaps more of your audience can be reached through traditional channels (print, radio, billboard) than you initially realized. Or maybe you recognize that videos perform better than lengthy blog posts. With a brainstorming team, sit down with the data and redevelop your marketing strategy accordingly.
Trend Analysis
What is one of the most powerful ways to stay ahead of your competitors? The ability to predict industry trends and capitalize on them. Big data can help small business owners understand the direction of the economy and industry so they may start developing new variants of a product or new pricing scales to stay ahead of the competition.
Work with a Media Buyer
Media buyers are human data miners and analyzers. We not only eat, sleep and breathe data, we help our clients use what we uncover to create more effective campaigns that generate incredible ROIs.
If the idea of mining and analyzing data on your own is a little overwhelming, consider working with a media buyer. Not only can they help you use the BIG data at your disposal, they can also handle your advertising for you, giving you more time and head space to focus on growing your business.
If your small business is not leveraging big data, you are missing major opportunities to understand your industry and audience to get ahead of the competition. Start digging into your data today so you can begin to have more A-ha moments that lead to better decision-making.