When we suggest to our B2B clients they should be advertising in trade magazines, we generally get the same response, "Do those still work?" Okay, sure, there are other competing media channels all vying for your ad spend, so why put your money toward a trade magazine when you can advertise online?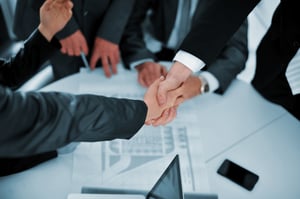 There are plenty of reasons.
Laser-Focused Targeting
Here's how to waste your budget: pay for a display ad that may or may not get in front of your ideal customer. If only 20% of those eyes are interested in your product or service, you'll never get a practical return on your investment.
A much better idea is to place your ad in a trade magazine whose audience is your target audience. If you're unsure of the demographics of the readership, simply speak with someone in that magazine's advertising department. They should be able to provide you important information like circulation, demographics, company sizes, and job titles.
Their Revenue is Growing
You want to align yourself with a channel that is not only seeing steady revenue but rising numbers. PwC reported in its Global Entertainment and Media Outlook 2015-2019 that trade magazine revenue is expected to rise. If your company does business overseas, the news gets even better. Overseas publications should also experience significant gains as countries like China and Peru continue to see economic growth and development.
Trade Magazines Inspire Purchasing Decisions
According to the Association of Business Information & Media Companies, 45% said that advertisements in print magazines inspired them to make a purchase. Okay, read that sentence again. It doesn't really get much easier than that. If someone told you all you had to do was turn around in a circle three times to receive a crisp 100-dollar bill, you'd be twirling all day long. This is almost as easy as that. Place your ad and they will come (the sales that is).
A Trusted Source
Being the largest industry-specific advertising marketplace for products and services, trade magazines are a highly-trusted source of information.
Controlled Circulation
There is something unique that sets trade magazines apart from other print publications and that is something called 'controlled circulation.' What this means is publishers of trade journals often send out free issue to qualified individuals within the industry. Beyond that, trade magazines are often included with memberships in professional industry organizations. This means your reach is actually wider than you know, but you don't have to pay a cent more for it.
Reach Decisions Makers
It's one thing to get your message in front of people who will find your offer relevant to their needs, it's another thing entirely to get your message in front of the actual decision makers. The primary readers of trade publications are middle and senior management, you know, the ones who call the shots.
Still not sure if advertising in trade magazines is right for your business? Get in touch with us. We'd be more than happy to answer any questions you may still have about leveraging these niche publications.