When it comes to magazine advertising, most small, local business owners think of the large, glossy, national publications chock full of flashy big brand ads. They make the assumption that their business has no business advertising right alongside the big shots, especially since their target audience is within a 100 mile radius. But this simply isn't the case. The truth is, many national magazines have local sections that are aimed at smaller, regional businesses.
Who Should Consider Advertising in National Magazines?
Advertising in the local, regional section of national magazines makes a lot of sense for business owners who have multiple locations within their state, because you can pretty much advertise ALL of your stores using just one ad.
If you carry niche items or specialized products (think hobbies and collectibles), advertising in these magazines may work well for you as many people are willing to do a bit of traveling to find a supplier of hard-to-find items.
Always call up a sales rep and ask for a media kit and any information on rates and deadlines. And be sure to request a map so you know exactly what each local territory includes.
For Businesses on a Really Tight Budget
E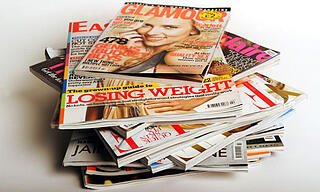 ven though advertising in the local sections of national magazines can be far more affordable than many would assume, there are still those businesses who are on an extremely tight advertising budget. How can these local owners leverage the power of magazine advertising?
A great option is to advertise in free magazines that you often find in grocery stores and other merchant's establishments. These generally carry ads for local realtors, car lots, home security monitoring, landscaping services, etc. Now, your product or service doesn't necessarily have to tie into one of these categories, it simply has to be attractive and make sense to the people who peruse these publications. If you own a small boutique shop that sells antique wedding rings, your target audience may not read this publication. However, if you are a local chimney repairman, your offer would most likely attract the right clientele.
Not only are local magazines much more affordable for smaller budgets, but they also have an incredibly long shelf life. Consider the fact that these publications are often browsed through months after their initial publication. You pay once and your ad may have exposure for months afterward.
Questions to Ask Before Buying Any Ad Space
No matter which size publication you decide to advertise in, there are some questions you should definitely ask a sales rep before handing over any portion of your marketing budget:
What is the publication's circulation?
How often is the magazine published?
What are the demographics of the readers?
How is the magazine distributed?
Are there any special themes or sections planned for the year?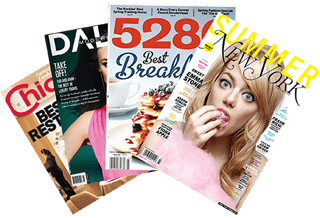 You'll also want to inquire as to whether you can get a discount on each one of your ads if you agree to run them in more than one issue. Notice in each publication if there are businesses that are targeting the same readers as you. If they are advertising in that publication on a consistent basis, then most likely they are getting a very good return on their investment and you will, too.
And finally, to really find out whether advertising in any publication will be cost-effective you'll want to do some quick math to determine the CPM, or cost per thousand. Let's say a magazine has a circulation of 40,000 and the rate for a full-page ad is $850. You would simply divide $850 by 40 to arrive at the CPM, which in this case would be $21.25. This means that advertising in this magazine would cost you $21.25 to reach each thousand visitors.
Some of our happiest moments are when clients have the sudden realization they can afford to advertise in a magazine, then see great success with their campaigns. Just because your business is small and local doesn't mean you can't leverage the power of print advertising just like the big national brands. By doing a little bit of homework first and asking the right questions, you can get your ad in a publication that reaches your target demographic and works within your budget.
Related Posts:
6 Factors That Affect Magazine Advertising Rates
3 Reasons Magazine Advertising Still Matters to Your Business
7 Benefits of Local Magazine Advertising