If you've read this blog for any length of time, you know that we are big proponents of newspaper advertising. Nothing quite allows you to target specific, niche demographics like newspapers.
But not any old newspaper ad will give you the results you want.
Too many marketers treat newspaper advertising as an afterthought, if they treat it at all. Much time and consideration are spent on their digital strategies, but when it comes to running an ad in the local paper, they either let the paper's in-house team take care of it, or worse, cobble together an ad that underperforms.
When it comes down to it, there are certain things that make a good newspaper ad:
It's Written for the Right Crowd
Have you been using your newspaper ads like a business card? You know, you write the name of your business, address, phone number, and any promo offer you're running? How have these ads performed for you?
In our experience, when our clients have run generic ads that speak to no one in particular, they haven't gotten the return on their investment they'd hoped for.
You have got to understand who your ideal buyer is and how your product or service fulfills their needs. Take a look at the competition. Who are they targeting? What type of language do they use? What kinds of imagery are working for them?
The Headline is Right
You know what they say, you never get a second chance to get them to read your ad. So get them to read it the first time by using an eye-catching headline. Beyond keeping it short and sweet, lead with the main benefit of your offer. Are you having a holiday sale? Do you offer a free estimate? Do you now sell gluten-free pizza?
Get the reader's attention by creating a killer headline.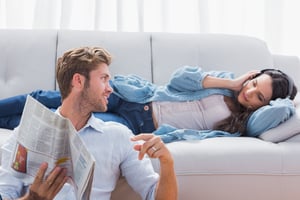 There are Emotional Triggers
Many marketers make the mistake of thinking their features are what sell. But no one really cares about features, truth be told. Human beings buy stuff because we are emotionally triggered to do so.
If you want to generate more leads and/or sales, create ad copy that evokes a visceral emotional response in your target audience. Consumers take action when faced with fear, anger or joy. It is only after they have already decided to buy out of an emotional reaction that they justify their decision with your product or service features.
It isn't Busy
The best newspaper ads are the ones that are easy and pleasant to read. Newspaper readers scan the paper and allow their eyes to land on ads that don't require too much work or squinting.
Some good rules of thumb:
Stick to using one or two fonts, no more
Allow the ad to breathe, meaning make sure there is plenty of negative white space surrounding those black words
Keep text size above 8pt
It Uses a Call-to-Action
The whole point of placing an ad is to get people to take action. Sometimes people need a bit of extra encouragement. Kind of like getting your kids to eat vegetables. Do you just put the vegetables in front of your kids and hope they will eat them? No, you tell them to eat them and what kind of repercussions there will be if they don't.
Treat prospects like your kids. Put your offer in front of them but use a call-to-action to tell them exactly what they should do next. The call to action might include a free evaluation, a discount, or an offer that adds value for consumers ready to buy.
Newspaper ads can make a great addition to your integrated marketing campaigns. Use these suggestions to make your ads work better for you. Or, just call us and we'll take care of your newspaper ads for you.