Less than a month until we begin a brand-spankin' new year. And with this new year will come new marketing trends and new ways to build brand awareness, loyalty and a repeat customer base.
In this article we'll take a look at some of the marketing trends that are poised to make a big impact in the coming year and how you can use them to make a big impact on your bottom line.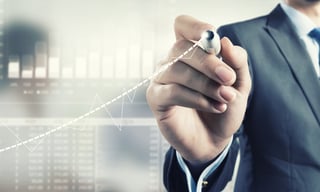 Bots Take Over
No, I'm not suggesting you go out and buy a robot. Although if you can find one who will clean and take out the garbage, why not?
Marketers have already begun using Artificial Intelligence (AI) with tools like Intercom and Drift. These live-chat tools make it easy to communicate with customers when they feel like communicating. As these conversational technologies become more robust, it is likely more marketers will embrace them to offer live chat to customers.
And here are just some of the benefits that can be gained when employing live-chat technology:
Reduce expenses
Increase sales
Improve customer service and loyalty
Discover customer pain points
Faster problem resolution
Customer convenience
Competitive advantages
Expand market reach
Personalization on Steroids
Personalized content is nothing new. Many marketers have been leveraging this strategy successfully for the past few years. But what we are beginning to see, and what we'll see more of in 2018 and beyond, is personalization taken to the next level.
Imagine running your blog like Netflix, where you can recommend content based on visitor preferences. By using platforms provided by Optimizely and Adobe, marketers can now offer only the most relevant and targeted content to readers. Talk about upping your chances of conversion!
More B2B Marketers Will Flock to LinkedIn
2017 was not a kind year to some social media platforms (we're talking to you Twitter). But while some SM darlings struggled, LinkedIn was busy making some pretty great changes to their platform. They completely revamped their site, and users will find the interface much friendlier and more intuitive. And, even better, they made some awesome improvements to their ad platform, making it incredibly easy to target prospects.
Influencer Marketing Becomes the Norm
Have you embraced influencer marketing yet? According to a recent survey, 95 percent of marketers who have used influencer marketing have found it to be highly-effective.
Social media, and specifically influencer marketing, is a great way to engage with younger consumers who are searching for more "organic content" that doesn't feel salesy. Since content that is promoted by influencers is subtly sponsored, your message has a greater chance of being accepted.
Content Marketing Will Focus on the Buyer's Entire Journey
On any given week you create a plethora of content to gain your audience's attention, get them to trust you and eventually buy from you. Maybe you focus on blog and social media posts, perhaps you churn out ebooks and whitepapers, or then again, you may rely heavily on email marketing.
Of the content you develop, what percentage would you say focuses on the top of the sales funnel to fuel customer acquisition, and how much supports every stage of the buyer's journey?
In the coming year, marketers will have to create more diverse and purposeful content that leads the customer through the entire funnel. If your nurturing campaigns stop at the point of conversation, you're going to lose your leads. Be sure to focus on relationships instead of sales moving forward.
More Integrative Strategies
In the past decade we have seen print and digital marketing fight it out for dominance. Recently, more marketers began to discover that you can utilize both, and that print complements digital engagement and ultimately increases sales.
The recent Print in a Digital World 2017 Trend Report tells us that "we are in an information revolution, powered by the intersection of two of the most commanding knowledge transfer mechanisms of our time". The report highlights how marketers can "benefit from the mixing and mingling of print and digital."
In the coming year, try to think of your print marketing as a way to lead your prospects to your digital assets (blog, Facebook page, sales pages) where they will eventually be converted. To do this consider using QR codes and including social media URLs on printed material.
As your marketing team begins to strategize for the coming year, consider leveraging these trends to reach consumers, engage them, and move them through the sales funnel.
Need help in 2018 with your print and digital campaigns? Get in touch with us so we can customize a media plan based on your business goals and objectives.