I recently helped a friend of mine move into her new house. Though the heavy lifting and schlepping of various items was not that much of a good time, it was wonderful to see my friend so happy.
I've known her for a while and remember when she lived in a crappy studio apartment that was smaller than my current bedroom. Then she worked hard, got a better job, and could afford to move into a nicer one-bedroom apartment.
And now here she is, finally moving into a three-bedroom two-bath home with a pretty fenced-in backyard. It took her awhile to get here, but her budget has finally allowed her to live part of the American dream.
Why do I tell you this?
Because it's not always easy dealing with budgets that don't get us exactly what we'd like. This is especially true with ad budgets. A new startup will have a very different print marketing budget than a national brand, but that doesn't mean that startup can't put those dollars to excellent use.
Let's take a look at three different-sized monthly budgets, small, medium and large, and see what sorts of printed material you can and should be focusing on.
Small - $200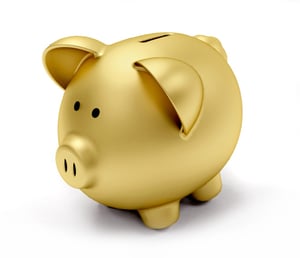 We've all got to start somewhere. Many new businesses do well in their first few months by word of mouth advertising alone. But that won't be sustainable, so we've got to look toward other outlets.
At first glance, this $200 budget seems quite small, and it is. But there is plenty of solid, traditional print marketing you can do at this price point and we call this the 3 B's: business cards, brochures and banners.
Business cards are an incredibly affordable and effective way to promote your new business. Use them at networking events and leave-behind purposes for some powerful advertising.
A step up from business cards is brochures. Let's say you meet with a new prospect, you can leave your card, or you can leave your card and a brochure that offers more detailed information about your products and services.
And finally, a decent-sized printed banner (we recommend 3' x 5') is a great way to attract eyes to your establishment. Plus, you can take this banner with you and use it for events like trade shows.
For $200 a month, you can print roughly 250 business cards and 25 banners, plus get a nice 3' x 5' banner made. After your banner is printed, use that money each month to put toward more brochures.
Medium $250 to $700
Once a business grows, it can spend a bit more each month on print campaigns. You can either add to your 3 B's so you print more business cards and brochures each month, or choose to print custom options like gloss finish.
You can also keep your 3 B's the way they are and add some other print materials to your arsenal. We recommend adding postcards and flyers, both of which are cost-effective ways of driving local traffic to your business.
Direct mail campaigns using eye-catching postcards are surprisingly powerful at making your business top-of-mind. Something else to think about, make your postcards coupons that can be used for discounts when the customer brings them into the store.
Flyers are great because you can use them through a direct mail campaign, or hand them out to people passing by your store. We recommend using clear, eye-catching graphic designs and printing on a thicker card stock, which has a more professional look and feel.
Large $750 +
This size budget gives you a lot of options. You may find that you have had a lot of success with brochures and postcards and flyers and may want to simply up the quantity or quality of these.
Of course, you can keep everything as is and then add some other print channels to the mix. Depending on the exact size of your budget, you may want to add some free-standing inserts or magazine adds to your campaign. If you work with a media buyer, they will most likely be able to negotiate some pretty sweet deals with newspaper and magazine publishers on your behalf.
Print marketing is still a highly-effective way of growing your customer base. Try not to get discouraged if you don't yet have the marketing budget of your dreams, there is still plenty you can do.
Need some help strategizing? Give us a call. We love helping businesses with any-sized budget get the absolute best return on their investment.