Would you be surprised to hear that 62% of phone calls made to small businesses go unanswered? And by unanswered I don't mean they go to voicemail, I mean they just keep ringing and ringing and ringing. Only 38% of calls actually get forwarded to voicemail. Perhaps the most shocking number is that 70% of small businesses answer less than half of the calls they receive!
This data was shared at a recent webinar called "5 Fabulous Habits of Small Business Champions" held in conjunction with National Small Business Week 2017 that was sponsored by the U.S. Small Business Administration, SCORE, and YP (Yellow Pages).
"If you don't answer your phone, you don't deserve to have those customers," webinar co-presenter Rieva Lesonsky said. "You are showing on your phone behavior, what kind of service (your customers) are going to get."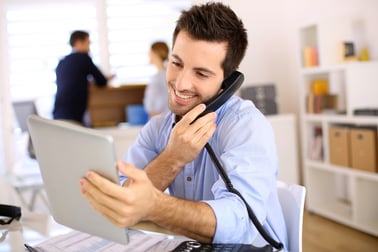 The webinar presenters shared some other insights benefitting small business owners. Here are 5 Must-Dos for Local Marketing Success
Be Consistent
A brand is only as recognizable as the consistency of their marketing message. This is particularly true of businesses who use an integrated marketing approach with multiple channels.
Equally important is the accuracy of the information you share. Being inaccurate can and will raise skepticism, tarnish your brand's reputation, and drive customers away.
Tell Your Story at Every Opportunity
You can either be a company that's trying to sell stuff, or a brand that has a story they want to share. One is much more powerful than the other.
The most important part of great brand stories is knowing exactly who your audience is and the best way to reach them. Whether it's through the copy on your home page, the images shared on Instagram, or the how-to videos on Youtube, take every opportunity to share your story and connect with your audience.
Be Clear
Many marketers work so hard at selling but fail to tell prospects what they want them to do. It's important you use clear calls to action on your landing pages, as well as print and digital ads. Also, keep your design elements clean and simple. Make it easy for people to learn about your offer and decide they want to buy.
Answer Your Phone
As we mentioned at the beginning of this post, a shocking number of local business owners aren't even picking up the phone (or forwarding the calls) when it rings. Are you guilty of this? Perhaps your local competitors aren't taking the time to field phone calls. What a great way to attract their business and build relationships and brand loyalty.
Social Media Best Practices
When it comes to good social media habits for local businesses, the webinar presenters had the following key points to share:
Use Facebook photo albums
Use Facebook live videos
Tell an intriguing story
Power up your Twitter feed with images
Try paid media – it works!
Host a weekly or monthly challenge
Post offers and discounts
Share motivational quotes
Have conversations
Don't use social media to hard sell
Many of the small business owners we work with have, at some point, expressed frustration at not having the resources their bigger competitors have. The truth is, when it comes to making an impact with your local audience and generating revenue, much of the marketing tactics, like the ones listed here, come down to common sense.