If you follow any marketing trends, you know that this year has had many a small business owner trying to figure out how to get chatbots to work for them. While AI certainly has a place in marketing, know what we've found to work even better? Good ol' fashioned printed marketing collateral.
Printed marketing collateral is not only cost- and time-effective, it is also one of the best ways to get your message in front of your target audience. Plus, since it uniquely combines your unique value proposition, company colors and logo, it can act as a tool for branding.
With all of this in mind, here are 5 pieces of printed marketing collateral that can help you generate more leads and close more sales.
Business Cards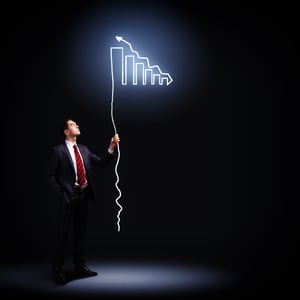 Did you know that business cards have been around since the late 17th century? Back then they were used to announce the impending arrival of an aristocrat. Today, they are a great first point of contact between prospects and business owners. Even in today's digital age, business cards are used just as much as they ever were. They're cheap to print, easy to hand out and fit nicely in people's pockets or wallet.
Tip: Make sure your business card makes the right first impression by using designs that align with your brand. While cards now come in all shapes and sizes, not all of them fit nicely in wallets. Keep the size standard and opt for heavier stock or special coating to make your card stand out.
Flyer
Flyers should be used for short messaging and quick calls-to-action. For instance, if your company is running a temporary deal or has an event to announce, flyers are a great way to go.
When it comes to designing your flyer, choose a lightweight stock. And, while you can print on both sides, we advise that you keep your text short and sweet.
Tip: Flyers serve one purpose and that is to get a specific idea into people's minds. Understand that the majority of your flyers will be thrown away shortly after received. Don't take it personally but do take it into account when planning your message and budget. If you want or need people to hold onto your piece of collateral, choose something other than a flyer.
Mailer
Mailers are very similar to flyers except instead of handing them out in person, your message is sent through the mail. Mailers work very well because your ideal audience can be targeted by geography or demographics. And perhaps the best part is that mailers can be timed to arrive in the mailbox at the best possible moment, say a few days before your big holiday sale.
Tip: Mailers must be UV-coated to hold up in the postal system. And speaking of, when thinking of your budget, remember to factor in postage and the cost to create your ideal mailing list.
Rack Card
Think of a rack card as one section of a brochure. If you've ever stayed at a hotel in Times Square in NYC, you've seen these in the lobby.
Rack cards fit in brochure racks (hence the term 'rack card') but only have a front and back panel. These can be a great cost-effective choice for when you want prospects to hold onto your message, but your message is still short and to the point.
Just keep in mind that space is still limited with this collateral, so when developing your messaging, ask yourself, "What information does my prospect need to know in order to take the next step with my company?"
Tip: Rack cards need to be printed on a heavier stock than a typical brochure to keep them from flopping over in a rack.
Brochure
And now we come to what most people think of when they think of printed collateral: the brochure. Brochures are folded collateral and are larger than flyers and rack cards. Since most brochures contain four to eight panels, you can share far more information with your prospect to give a more complete picture of your business.
Keep in mind that brochures will have a higher per unit cost and so they may be too expensive if used for short-term promotions like a seasonal sale.
Tip: Brochures can be folded in a variety of ways. But when it comes to cost, the number of folds will affect the price, not the folding style.
If you haven't been leveraging the power of print collateral, now would be a great time to start as we head into the holiday season. When considering which print pieces to use, just be sure to factor in message and audience and ask yourself, "What absolutely needs to be communicated for this print campaign to reach its objective?"