A new year is almost upon us. While most consumers are still buying and wrapping last minute Christmas presents, most business owners are trying to figure out their budgets and strategies for Q1 advertising.
In our experience, and the experience of our clients, you get the most advertising bang for your buck when you integrate print and digital. While digital channels like search and social media offer strong cost per lead (CPL) benefits, print build trust, credibility and drives massive action.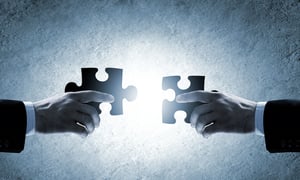 We strongly recommend you integrate your print and digital campaigns in the new year to get the highest ROI possible. Here are 5 ways to do it:
Use QR Codes
QR codes are a great way to bridge your print collateral with your digital assets. Now, you may have thought that QR codes have come and gone but you would be really, really wrong. In fact, Statistia estimates that 11 million households will scan a QR code in 2020 in the US alone! That's an increase from the 9.76 million QR codes scanned in 2018.
Think of Your "Other Half"
When you're married to someone else, you understand that you have now become one half of a new whole. And you've got to think of that other half when making decisions.
You may want to spend your entire Christmas budget on a 4-wheeler and fishing equipment, but is that what your other half would really want?
You have to think of the other half with marketing as well. If you launch an email campaign, think of how you can support your efforts offline. Perhaps sending a matching postcard would work?
To ensure your campaign is an efficient whole, think of how each half (offline and online) can accentuate and support the other.
Leverage Your Digital Data
Hopefully you are tracking all of your online campaigns. Understand that this data can also help you optimize your offline endeavors.
For example, let's say the article you posted on LinkedIn regarding the benefits of juicing has gotten a lot of traffic. You'll want to create an offline promo and/or direct mail piece around that effort and perhaps offer coupons for juicers.
Always remember, the more data you collect, the more actionable insights you have at your disposal.
CTAs and Landing Pages Go Together Like the Kardashians and Plastic Surgery
One of the most effective marketing tools – if used right – is the powerful call-to-action (CTA). CTAs work just as well offline as they do online. Without CTAs, most consumers simply have no idea what action you'd like them to take next.
Make sure to include strong CTAs on all of your print campaigns that direct readers to a landing page, sending them further into the sales funnel. Think of the absolute best landing page to send them to, then build your print campaign around that.
Marry Variable Printing with Targeted Social Media Campaigns
We can't talk about integrating digital and print effectively without discussing the power of combining variable printing with your social media campaigns. A simple way to do this would be to invite your social media followers to sign up for free samples through an online social ad, say a Facebook ad. You would then target a direct mail campaign around certain online interest groups. Facebook makes this incredibly easy because they offer some pretty sweet ways to target your audience beyond just age and gender.
Integrating digital and print is a strategy we encourage you to try in the coming year. If you ensure all of your marketing efforts, both online and off, support each other, you will increase the likelihood of consumer engagement while at the same time adding value at each and every touchpoint.
Need some help integrating your campaigns? Give us a call. We help small- and medium-sized businesses get the greatest returns on all of their media investments.