Gone are the days when advertisers could think in terms of simply getting the right sales message in front of the right audience. Today's consumers expect brands to engage them and meet their needs in real time. This means advertisers must shift their focus toward refining their customers' journey and creating lasting connections.
This is where customer engagement strategies can become a CMO's best friend. But what is customer engagement all about, really? It's ultimately about encouraging your customers to interact with your brand through value creating not revenue extraction. Done right, customer engagement creates brand growth and loyalty.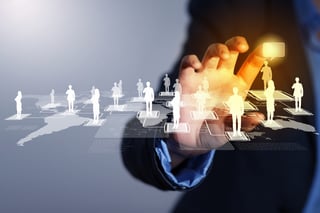 Here are 5 customer engagement strategies to deploy in the new year:
Customer-Centric Campaigns
If you ask Jeff Bezos, CEO of Amazon, why his company has become the #1 online retailer, he'll tell you it's because Amazon is obsessed with providing an exceptional customer experience.
Your own company culture should be focused on (read: obsessed with) your customers' journey. This includes everything from content creation, social media engagement and customer service. In the new year, think of ways you can tweak your business model to better serve you customers and provide them with ultimate satisfaction.
At the end of the day, your customers determine your revenue, so think of their needs in everything you do.
Be Human
We live in a culture of transparency. Today's consumers are less interested in the products and services they buy and more interested in the people behind them. It's important that your brand humanizes itself.
How do you do this? Let's start by discussing first what you shouldn't do. You shouldn't try and squeeze your brand into a fake persona that you think is fun and people will love. People can smell fake a mile away. And let's face it, if you're a B2B company or an organization in a rather… dull vertical… "fun" is not necessarily the brand image you should be going for.
The best way to humanize your brand is to find a thought leader within your organization; someone who is legitimately excited and passionate about what your company offers. Grow this person into a thought leader and create opportunities for them to engage your audience. This could be through blogging, video content, or weekly podcasts. Before long they will become the trusted face behind your organization.
Personalize Communications
According to Emarketer, 70% of US retailers made customer personalization a priority in 2017. This trend will continue into this new year and beyond, because personalization creates relevant engagement. You cannot take a one-size-fits-all approach to engagement, so this year consider trying different personalization tactics from auto-generated email messages to deploying sophisticated algorithms that recommend products based on a person's browsing history. But always remember that personalization should make your customers feel warm and fuzzy, not like you're strip-mining their data to make a quick buck.
Leverage Analytics
You can try to engage your audience, but how will you know if you're successful? In the new year it will be important to use specific metrics that will help you determine if your engagement efforts are hitting the mark or falling short.
Listen
You know that old saying, "You were given two ears and one mouth, so you could listen more than you speak?" All marketers should live by this motto. Consumers will no longer tolerate being sold to. They want to be heard and have their needs met.
If you're not already doing so, begin using social media not only as a way to speak with customers but also to listen to what they're saying about your products and services. What are their complaints? How can you better serve them?
The more you listen to customers, the more they'll trust you and become loyal followers and brand ambassadors.
If you utilize these five engagement strategies in the new year, you'll inspire your customers and build a brand that can cut through the noise and thrive in all market conditions.