Today's patients are different than those of yesteryear. More and more consider themselves consumers of healthcare rather than just "patients" and spend hours online looking for health information.
In fact, a 2013 Pew Research Center Report found that "72% of internet users said they looked online for health information within the past year". That means medical professionals, and yes, that includes dentists, need to get with the times and get online offering relevant and educational information.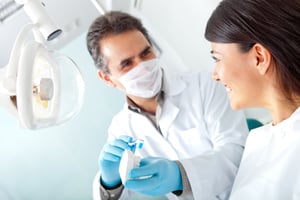 With this in mind, here are some marketing ideas that will help you reach prospects.
Claim Your Channels
For any healthcare provider, being visible online is vital. Be sure to claim all of your channels such as review sites like Yelp and Healthgrades. Make sure your information (address, URL, phone number) is correctly listed.
Also, encourage your patients to rate you and leave feedback. Health consumers look for honest reviews when selecting a provider.
Use Google Adwords to Target Local Customers
Create ads that focus on terms like 'find a dentist near me' or 'dentists in the area.' You can target a small radius of even 5 miles or less.
Be sure to track the success of your ads with a third-party call tracking service. In this scenario, you would only want to run ads during business hours when someone is there to answer the calls.
Create an Email Campaign
Generally speaking, no one buys a product or service right away. This may be especially true of dental services, as most people tend to avoid the dentists until an emergency arrives.
When prospects do begin their search for a local dentist, your website will be found in the results because you've optimized for the right search terms like 'dentists near me.'
What will you do with all of that organic search traffic? You need to capture the visitors' email addresses so you can take the relationship to the next level. You could offer a free 3-part video series on fighting gum disease or how to avoid cavities.
Once you build your list of subscribers, nurture the relationships through education emails. Your subscribers will learn to trust you and, when it comes time for them to make an appointment, they will know exactly who to call.
Maintain a Blog
Maintaining a blog is a great way to establish yourself as a thought leader and build credibility. Use content to discuss new technologies, emerging trends, and common dental issues. Content marketing offers business owners a fantastic ROI while also adding value for patients.
Leverage Youtube Marketing
Before anyone will feel comfortable enough to sit down in your chair, they'll want to get a sense of you as a dentist. This is where Youtube can come in handy.
Video marketing is powerful for just about any business, but particularly for healthcare providers. By creating videos that answer common patient questions about oral health and your practice, you will allow prospects to get a sense of you and put them at ease.
If you're wondering what video content to create, simply ask your patients what they'd like to see. Committing to creating one video a week or month can really have a positive impact on your marketing efforts.
Offer Video Testimonials
And speaking of creating effective videos, there is no better advertisement than having a satisfied customer leave a glowing review of your practice. You don't need any fancy equipment to make these videos, just your smartphone, some good lighting, a quiet space and a willing participant. The video can be short, in fact most effective video testimonials are just 60 seconds or less.
Write Content for Local Publications
Want to get your name out to prospects in your local community? Consider writing articles for one of your local online publications. Print also works very well. In fact, many local papers are very receptive to receiving articles from local experts. You will most likely be able to include a photo and byline. Just one article that shares your expertise can boost your numbers.
These are just some of the ways dentists can optimize their marketing efforts to bring in more business. If you could use some extra help with your healthcare marketing campaigns, give us a call. We specialize in helping providers make the most of their data and budgets.