While they can't be trusted to provide the most nutritional menu items, fast food joints are pretty good at advertising their products, however unhealthy they may be. They know how to create catchy slogans, engage with consumers and communicate their competitive advantage. Even if you aren't a fast food junkie, you can still pick up some advertising tips from KFC, Taco Bell and Chipotle.
Get people talking about your brand
One of the quickest and most authentic ways to drive business is to get people talking about your brand. Whether you do that by continuously introducing new products or creating attention-grabbing advertising campaigns is up to you.
KFC knows how to get people talking and the fried chicken establishment has received a lot of media attention during the past year. I referenced KFC's Go Cups a few months back and who can forget the Double Down sandwich? (FYI it's back again for a limited time only.) The company's latest stunt involves a fried chicken corsage, just in time for prom. The KFC corsage was probably the brainchild of some employee who got stood up by his prom date. It's weird and completely ridiculous, but I'm telling you about it and that's exactly what KFC wanted when the decision was made to incorporate it into their spring advertising campaign. Take a look at the video and one of three things will happen:
You will order a chicken corsage for your son's prom date
You will get a craving for some original recipe chicken and drive to your nearest KFC (after finishing this blog post, of course)
You will tell someone about the ad
It's a win for KFC if you do anything on the list. Just as you can't buy me love, you can't buy word of mouth advertising, so think about what you can do to become a topic of conversation at the dinner table.
Be a fierce competitor
There's stiff competition in the fast food industry and it takes an advertising budget and strategy to gain market share. As with any industry, trying to outsmart and outperform the competition is critical to success. You have to make sure consumers know what makes you different and the value you provide.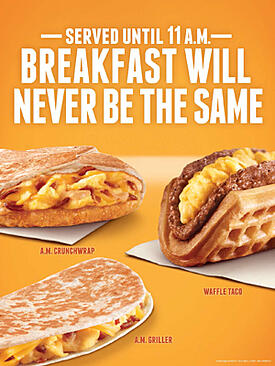 In an attempt to grow its breakfast business, Taco Bell has come out of the gates running. The Tex-Mex chain is gunning straight for its golden-arched competitor McDonald's. Taco Bell knows it needs to boost awareness of its breakfast offering in order to steal business from the breakfast leader. Offering waffle tacos, breakfast burritos and grilled tacos is one thing, but using the many likenesses of Ronald McDonald to market the breakfast menu is a whole other animal. The spots feature real-live Ronald McDonalds from all across America and they love having Taco Bell for breakfast. This ad campaign is a direct attack at McDonald's and only time will tell if A.M. Crunchwraps become more popular than Egg McMuffins.
Use video advertising to tell your story
We all know the power of a good story, especially one that captivates and inspires. Storytelling is so much better than talking at consumers, so make sure your advertising campaigns communicate your message in a story-like fashion. If you can do that through video, it's even better. Video advertising on YouTube and other sites continues to grow, reporting a 19% increase in 2013.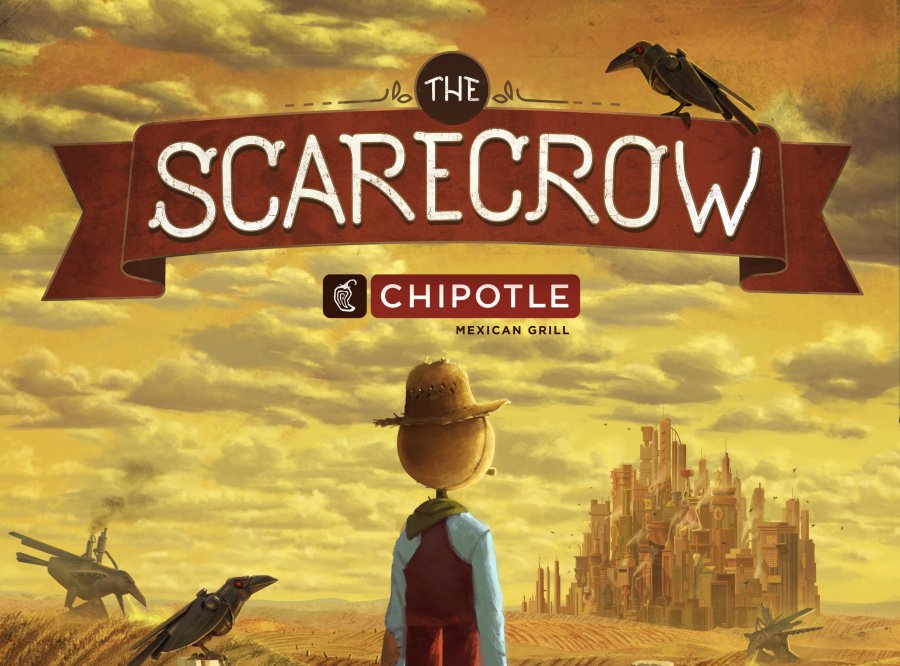 If any quick service restaurant knows a thing or two about creating compelling videos to tell its story, it's Chipotle. From "Back to the Start" to "The Scarecrow," the company has created some of the most viral video ads in the industry. They know the power of video and have incorporated it into their strategy. These videos are fine examples of content marketing and really resonate with Chipotle's target market. Through the videos, Chipotle communicates its mission and values in a memorable way in hopes of educating consumers about the value of locally and organically grown food. The short videos keep consumers captivated much longer than a typical 15 or 30 second television commercial and can be easily shared on social media platforms.
You don't have to be a fast food connoisseur to benefit from these advertising tips. Pay attention to those greasy advertising campaigns and see how they could be modified and applied to your business.
RELATED POSTS:
Hannah Hill is a marketing specialist at Mediaspace Solutions. Her marketing experience includes writing, inbound marketing, social media and event management. You can connect with Hannah on LinkedIn, Facebook or Google+.