Your local coffee shop, your doorstep, the person next to you on a plane. The places you'll find newspapers are endless. Many skeptics feel the newspaper industry is dying. Here are a few reasons why newspaper advertising should still be part of your integrated marketing plan:
Newspapers Tell a Story Unlike any Other Medium – Newspapers set the tone and shape the coverage for other mediums. People feel more emotionally connected to stories presented in print because good journalists express exactly what they are trying to say causing people to become deeply involved in an article.
Readers Take Action – Newspaper readers are devoted and sincerely believe in the credibility of newspapers. In addition, people find newspapers more accurate and reliable than other sources when it comes to advertising. In fact, four in five adults have taken action as a result of a newspaper ad in the past month.
Large Audience Reached – One hundred and two million people read the newspaper in print or online every weekday. Let's be honest, that is a ton of eyes seeing your content using just one medium.
National Brands Create a Local Presence – Readers enjoy their local newspaper. Forty-four million copies of the 1,300-plus daily print newspapers are sold on an average weekday. Your brand would be reaching those local markets and the consumers reading or paging through the paper.
So now that you've read this, you're asking yourself, what's next? If you're like many of the skeptics or reading what's being published you're still telling yourself, newspapers are dying. Well you can believe that if you choose to, but that's not our experience. Our clients have experienced great success by including newspaper advertising, print and online, into their integrated marketing mix. So much success in fact, that they are increasing their budgets to take even greater advantage of this medium.
Some of you might be reading this and say to yourselves, 'Isn't this just a blatant self-promotion of what you do?' In fact it is. We are pimping our wares a bit with this post, but in essence it fits with the rest of what this blog is all about. We want to bring you relevant, timely and actionable information related to marketing, advertising and growing your business. And newspapers happen to be a medium, while often overlooked, that can and do prove effective for many advertisers.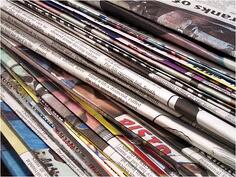 How do you integrate newspapers into your marketing plans? Let us know in the comments section below.