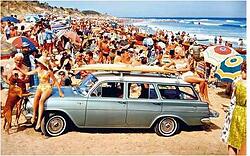 Constantly targeting the ever so popular 18 to 49 age group with your advertisements? Ever thought about those with a little more experience? Never! Oh, but you should. People within the 18 to 49 age group eventually grow out of it, right? So wouldn't it make sense to target them after they turn 49? Ding, ding, ding! Just because they turned 50 does not mean they spend less money. Surprisingly, they actually spend more.
Nielsen recently released a report, the "Most Valuable Generation," , where they outline the reasons advertisers need to be including the 50+ market in their target audience. MediaPost also provided a research brief outlining additional stats on reaching this key audience. Here's the dish:
Within five years, 50% of the U.S. population will be 50+ and control 70% of the disposable income
The 50+ audience consists of nearly 100 million consumers
50+ audience is expected to grow 34% and the 18 to 19 audience 12% by 2030
Boomers account for nearly $230 billion in sales for consumer packaged goods

Which is 49% of total sales
63% of Boomers still have at least one person within their household working full time
Boomers make up 44% of the U.S. adult population
Boomers brand loyalty levels are the same as other age groups
53% of Boomers have an account on Facebook
Boomers make up 33% of all online users; 33% of all social media and Twitter; and 33% of Boomers are heavy Internet users
Now, would you reconsider who you are targeting? While you can build brand loyalty with the 18 to 49 age group, what are you going to do with it once you have it? If you aren't including the 50+ how can you be sure their loyalty will remain? If you want your brand to see growth and continued success, you need to include the 50+ age group in your target audience. They spend the most money, are loyal to their brands and make up a large percentage of the U.S. population. You would truly be missing out on a gold mine, literally, a gold mine, if you decide not to include this integral group in your marketing.
So get out your Beach Boys vinyl, your itsy bitsy teeny weeny yellow polka dot bikini, jump in your yellow submarine and start hitting an audience that can accelerate your brand and your business. Curious how you can attract affluent consumers? Download our white paper, 'Proven Methods for Reaching Affluent and Educated Consumers.'