It's no secret that marketers want to put their offer in front of people who are A) interested in what they have and B) possess a healthy disposable income. When it comes to "B", baby boomers account for the most disposable income in this country. This makes them an ideal demographic target for many business owners.
In fact, baby boomers, those born between 1946 and 1964, are currently the largest group of consumer spenders, accounting for $230 billion in annual sales of consumer packaged goods. That's almost 50% of TOTAL sales. And yet, very few marketers focus any time or resources on this group of spenders.
Hitting the Mark When Marketing to Boomers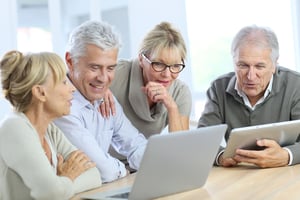 Like other age groups, baby boomers are comprised of individuals that have their own preferences and quirks. While the 18-45 crowd can often be found online researching and making purchases, baby boomers tend to trust ads found in other types of media, in particular print ads.
Not only are print ads more favored and trusted by baby boomers, but print ads have been found to have more positive impact on purchasing behavior compared to other mediums.
The bottom line is, if you want to get your offer in front of the largest group of consumers, and the one with the most buying power, you need to start adding print channels like newspapers, magazines and direct mail to your campaign's mix.
Boomer Marketing Rules to Keep in Mind
Now that you recognize the power of print to target baby boomers, let's take a look at some critical marketing rules for creating content that speaks to this particular group.
Be Specific
Boomers have lived a good chunk of their life already. Many are retired and ready to enjoy their spoils. When creating your marketing message, be sure to highlight your product or service's benefits and how they pertain to boomers specifically. Explain how your offer can positively impact their life and make it easier/better/healthier etc.
Boomers Grew Up with Competition
Baby boomers are the largest generation ever born in this country, so they are used to having a lot of competition. They grew up with this concept in their minds. It's a good idea to speak in these terms and explain what sets you apart from your competition and why doing business with you will give THEM a competitive advantage.
They Expect Exceptional Customer Service
Boomers grew up in an age where customer service really meant something. If you want their initial AND repeat business, you'll want to show them from your very first ad that you will go the extra mile to cater to their needs.
Boomers Love Facts
Younger people may make a purchasing decision if they feel it will help them stay on trend. Older people care more about facts and data. When creating content for this group, provide statistics, charts and graphs. Also, sending traffic to a FAQ page will also help guide prospects down the sales funnel.
Don't Call Them Old!
Baby boomers are the first generation to redefine what it means to live out the golden years. These consumers are not going to sit in rocking chairs for 20 years, quietly watching the world go by. They are working longer, traveling and taking up adventurous hobbies like scuba diving. When creating your marketing message, don't insinuate that their age holds them back.
Boomers Love Purchasing Online
While this demographic prefers to read printed content and printed ads, that doesn't mean they have a fear of buying online. In fact, boomers outspend younger adults online 2:1. Provide a URL address in your print ads and make it easy for this group of buy from your online store by having an easy-to-navigate website with clear calls-to-action.
If you're not currently targeting baby boomers in your marketing campaigns, you're leaving a lot of money on the table. By incorporating print into you marketing mix and following these guidelines, you'll be able to engage with baby boomers and tap into their incredible spending power.