The weather is getting warmer, the birds are singing louder and there's simply a spring in everyone's step (pun intended). Tomorrow, March 20, officially marks the first day of spring. That means it's time to come out of hibernation, stretch your legs and take a breath of fresh air. But not so fast. It's also time for a little spring cleaning, both at home and in the office.

Breathe new life into your advertising this spring by focusing on its digital components. Included below are the results of a new study along with predictions for the future of digital advertising.
According to a recent study conducted by Nielsen and the Interactive Advertising Bureau, companies aren't spending enough money on their digital advertising campaigns. (If you ask us, they aren't spending enough on newspaper advertising either, but that's a topic for another day.) The study provided a pretty convincing argument that if companies reallocate up to 15 percent of their TV budgets to digital, they can increase reach for CPG and non-CPG clients by up to 3.4 percent and 6.2 percent, respectively. What's more, a strategic shift of advertising dollars from TV to digital can increase reach without affecting spend. Now that's definitely something to consider during the spring months.
Susan Wojcicki, Google's SVP of Advertising, recently predicted that digital advertising will be concentrated around the following five Cs by the year 2020:
Choice

– Ad views will be voluntary. Consumers will view the ads they want when they want to. Hulu currently allows its subscribers to choose which ad experience they'd prefer to view during the commercial breaks. Not only does this feature give viewers the ultimate choice in their ad experience, but it also increases the ad's ability to target the correct demographic.
Control – Users will participate if advertisers provide enough value and control. Advertisers will need to ensure they articulate value across their messaging components.
Charm – Ads will be more interactive and beautiful – at scale. The companies that invest in innovation, specifically in terms of interactivity, will be more appealing to consumers. The ads of the future will have to be more alluring to capture our diminishing attention spans.
Connected – Ads will help people live their lives on the go. According to the Pew Research Center, 62 percent of full-time workers own a smartphone while 33 percent also own a tablet. As time spent on mobile devices continues to increase each year, advertisers need to figure out how best to reach their target audience since they are constantly on the go.
Calibration – All ads will be measured, and clicks will only be one metric used to measure performance. Imagine the possibilities.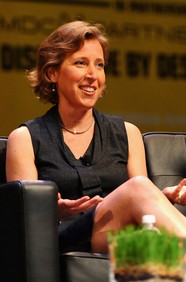 Only time will tell if Wojcicki's predictions are accurate, but they are reasonable, especially with the rate at which digital advertising is growing. If you have your own digital advertising predictions, please let us know in the comments section below. (Note: They do not need to start with the letter C, though feel free to continue the trend.)
Dust off the cobwebs, reevaluate your digital advertising budget and try something new since spring is the perfect time to plant a seed and watch it grow. While you're open to trying new things, why not consider avoiding advertising contracts altogether? Download 'The CMO's Guide to Non-Contractual Advertising' to learn the many benefits of this non-traditional advertising approach. Also, our eBook 'The CMO's Guide to Integrating Print and Digital Media' focuses on the advantages of advertising across multiple platforms. Download it now.
Hannah Hill is a marketing specialist at Mediaspace Solutions. Her marketing experience includes writing, social media and event management. You can connect with Hannah on LinkedIn, Facebook or Google+.