Just 10 days ago the city of Boston woke up to one of its most exciting days of the year: Patriot's Day and the celebration of The Boston Marathon. Runners woke up, ate their pre-race breakfast and got ready to run in one of the most celebrated races on the circuit. Volunteers prepared water cups, orange slices and peanut butter and jelly sandwiches. The frat boys stocked their coolers and solidified the rules around their Boston Marathon drinking games. Everyone was ready. Twelve hours later everything had changed, and the news was flying so fast it was hard to keep up.
Just 10 days ago I was in a hotel in Florida at the Newspaper Association of America's annual mediaXchange conference. Typically during conferences it's difficult to keep up with the outside world. There's so much happening right where I am that snippets of SportsCenter and the front page of USA Today, courtesy of the hotel, is mostly what I get. However, with accessibility of social media, and the selection of individuals and media outlets pushing tweets to my phone, I'm better able to stay connected. On this day, I learned of the bombings as my colleagues were having a meeting with the Boston Globe, and undoubtedly heard about it before anyone at that table. I can be so confident in that because the mood didn't change. The meeting wasn't interrupted, and everyone left the discussion without bringing up the latest attack on our country.
As soon as the explosions were reported, a number of 'reporters' were born. These were people just like you and me, who were watching Twitter and Facebook and getting their news and updates from people in Boston, then sharing with their followers and friends. And these reporters, no different than CNN, jumped to some conclusions: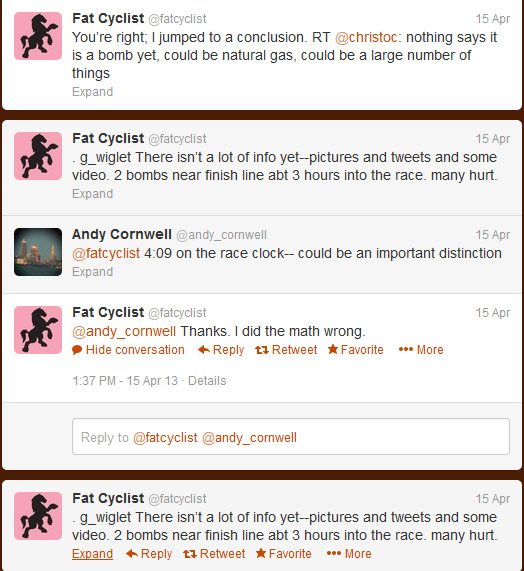 A couple things to notice in this exchange: First, social media allows the conversation and corrections to be made in real time. The distinction between three hours into the race and 4:09 is that the latter is one of the most popular finish times for the 'every (wo)man,' running the marathon. At this time the finish line would be more crowded with cheering fans, supporters, and runners. Second, as stated in the top tweet, while a lot of people assumed the explosions were bombs, the confirmation of that was not immediate.
Once the initial news broke and the world had heard of the events, social's role continued to be important, but traditional media got in the game and was able to start actually verifying what was happening:

The trouble is, even traditional media sometimes has problems with verification, and some outlets are so eager to be first, and beat social, they report false or inaccurate information.
The CNN Breaking News Blog reported this Wednesday, April 17: [Updated at 1:46 p.m.] An arrest has been made in connection with Monday's Boston Marathon bombings, sources tell CNN's John King and CNN contributor Fran Townsend. King's source is with Boston law enforcement, he said; Townsend's source is with federal law enforcement.
That's more than 24 hours before the shootout in Watertown resulted in the killing of Suspect 1 and the fleeing of Suspect 2. Oops. Turns out even those making a living reporting the news don't always get it right.
Now you're thinking, 'So what's the point? If even CNN's going to give me inaccurate information, why wouldn't I just trust my twitter feed?' Here's why: social is taking over as the outlet for breaking the news, but the Associated Press and other media organizations are the ones doing the digging, filling the 24-hour news cycle with repeated information while they wait to break the next step. And sometimes that causes an over-eagerness and inaccuracies, but more often than not, traditional media are the ones getting it right.
I woke up Friday morning, nearly a full five days after the blasts, to a tweet pushing me to this video:
Much has been discussed about this video, and the outcry about it was so much that the family actually had to remove it for a period Friday to let everything calm down, and get everyone to understand Sunil wasn't actually one of the bombing suspects. That tweet, which started conversations with my wife and co-workers, has been removed. Social media allows erasures of our mistakes, while CNN and other traditional outlets continue to display their mishaps. We're all after accurate, timely and breaking news, and with more sources than ever at our fingertips, it's up to us to determine how much weight we put in each outlet. Traditional media is still the most trusted, regardless of some of the recent mistakes, meaning it's still a good place for advertisers to be putting their dollars to reach their audiences.
If you're looking for ways to maximize your dollars while staying out of hindering contracts with traditional media, take a look at our recent eBook on the benefits of non-contractual advertising.
Scott Olson is the director of marketing at Mediaspace Solutions. His career has spanned marketing positions in the non-profit, software and utility sectors providing various marketing experiences. You can connect with Scott on Facebook, Google+, Twitter or LinkedIn.