Mediaspace Solutions' Five in Five interview series features individuals in the advertising and marketing field and their path to success. These interviews contain answers to a combination of traditional work-related questions and questions revolving around their personal interests, all of which help us get to know the advertising leader a little better. We recently conducted a Five in Five interview with Robin Koval. Robin is the CEO of Publicis Kaplan Thaler, a fully-integrated, top five advertising agency based in New York. In addition to helping the agency grow its clients' businesses, Robin has co-authored three best-selling books including The Power of Nice: How to Conquer the Business World with Kindness. She received her BFA from Syracuse University and her MBA from Baruch College. Read the full interview below to learn more about Robin and her favorite guilty pleasure.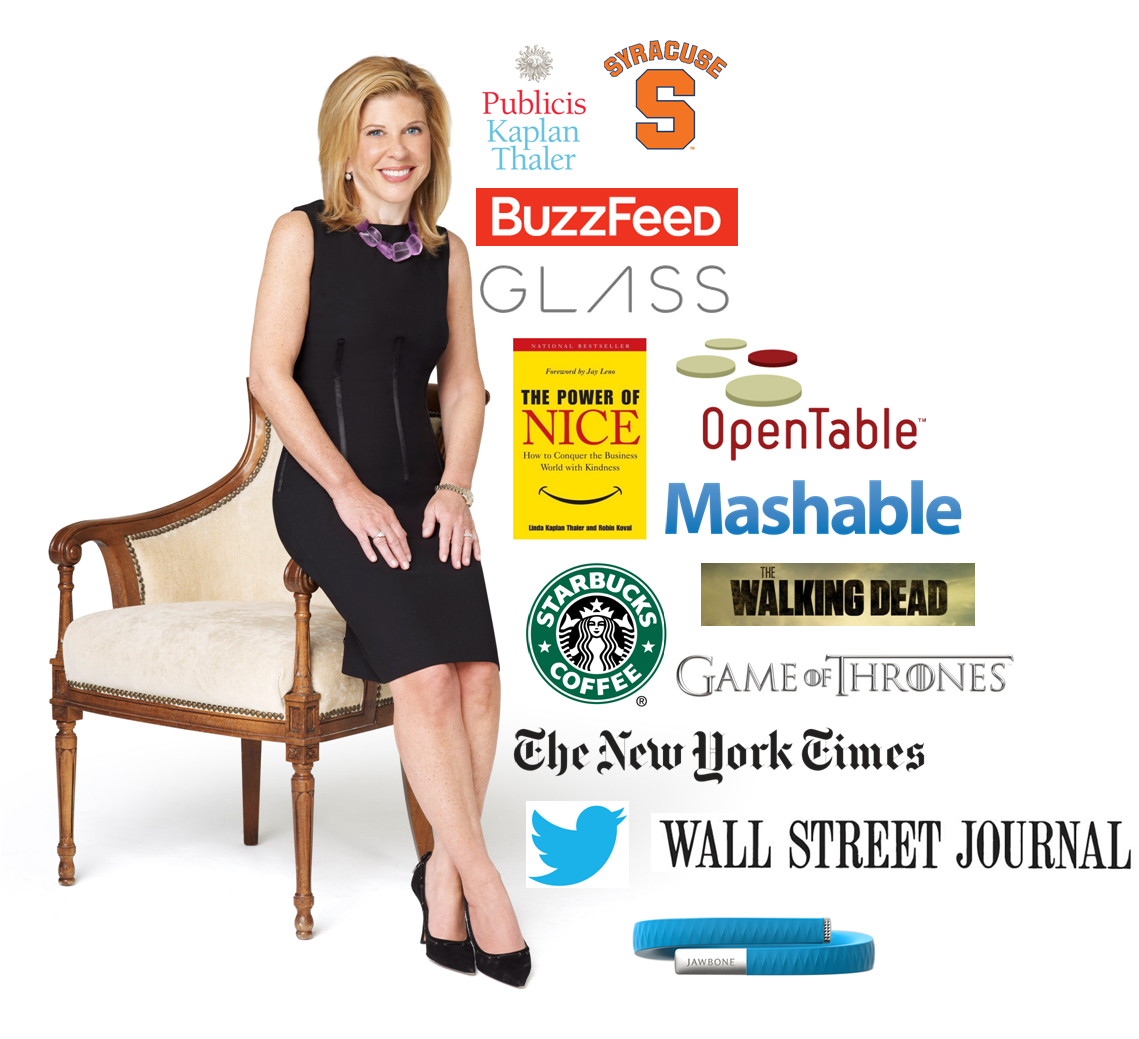 1. What's the one mobile app you can't live without?
Well, I'm looking forward to having all my apps available constantly when I get my Google Glass, hopefully the designer frame version. Until I wrangle a pair out of Google I guess I'd have to tell you my new favorite is the app for my UP bracelet which I'm endlessly fascinated by because, of course, our most interesting subject is ourselves as I am the ultimate consumer. I'm deep into analyzing all my sleep patterns. My Starbucks app is another favorite. They are the most brilliant retailers in the world. Also, I'm a little bit of a foodie so I love my OpenTable app. There is nothing more fun than being on the street and thinking, "Where should I eat?"
2. How do you get your news?
I'm a total nibbler. I check my Twitter feed on my phone whenever I have a minute throughout the day or in between meetings. I also check out Mashable and BuzzFeed as must-reads every day. And The New York Times still does it for me. It's definitely an iPad read in the evenings.
3. What's the toughest lesson you've learned in your career?
That 'nice' is the toughest four-letter word out there in this business. The advertising business gets the rap of sometimes being a little not-so-nice and fairly competitive. When I think about my success and the success of people I admire, I really do believe it's the nice guys and gals who come out on top, especially now that we live in this unbelievably transparent world where everybody gets to observe your behavior, comment on your behavior and it never ever ever gets forgotten. There's no delete in cyberspace.
4. What's your favorite guilty pleasure?
My most favorite thing to do is load a season's worth of Walking Dead or Game of Thrones and let out my inner geek. There's nothing like a good four or five solid hours of sword fights or zombie head chucking. I probably shouldn't have said that, but it's true. It's a guilty pleasure to just binge watch television.
5. How do you spend the first hour of your day?
Well, the first hour of my day is probably not the first hour for most people. I'm a night owl. For me, the first hour of the day is literally the first hour of the day. I'm probably one of the very first readers of the Wall Street Journal every day because they publish at midnight, and I'm a late-night news junkie.
That concludes our interview with Robin. Come back soon to check out our next Five in Five interview. In the meantime, check out our recent STSQ interview with John Kerr, director of multimedia sales with The Press-Enterprise. Download the interview to learn how The Press-Enterprise is overcoming the challenges facing the newspaper industry.
Hannah Hill is a marketing specialist at Mediaspace Solutions. Her marketing experience includes writing, inbound marketing, social media and event management. You can connect with Hannah on LinkedIn, Facebook or Google+.