Mediaspace Solutions' Five in Five interview series highlights individuals in the advertising and marketing field and their path to success. These interviews contain answers to a combination of traditional work-related questions and questions revolving around their personal interests, all of which help us get to know the advertising leader a little better. It is our hope that you are able to take something away from each interview in the series. So far in 2013 we've published a handful of interviews with a variety of successful individuals. If you missed last week's Five in Five interview with Lauren Barger of Crispin Porter + Bogusky, you can view it here.
We conducted our most recent Five in Five interview with Tom Telesco. Tom is the President, Worldwide, of ORION Trading, the only global agency-owned barter company. Prior to joining ORION Trading, Tom worked in various roles at Universal McCann. He received his marketing degree from the University of Connecticut's School of Business.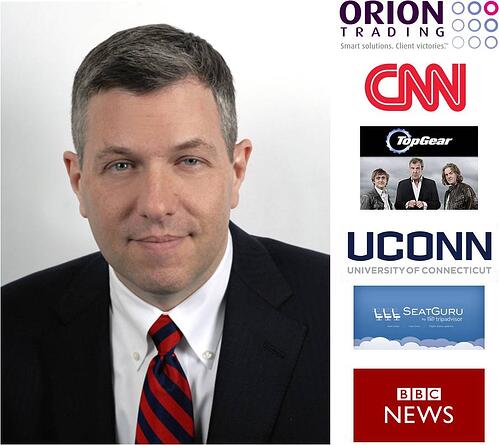 1. What's the one mobile app you can't live without?
SeatGuru! I travel a lot and am on planes often and so it's always great to know what seat I should pursue! Plus, it's useful for flight info like knowing the right gate or if there are flight delays or other changes. SeatGuru is especially helpful when I'm in an unfamiliar airport.
2. How do you get your news?
I get my news on my mobile device, mostly because it is always with me. When I get a minute or two of downtime, I can easily connect to the grid and find out what I've missed. If I am on the road for business, I will occasionally get some time for TV during the evening – so I'll catch the BBC or CNN.
3. What is the toughest lesson you've learned in your career?
I have been in the advertising business my whole career (mostly at Universal McCann, but since 2011 at ORION Trading), so my tough lesson comes from a client who was new to me at the time. During one of our meetings he looked right at me and said: "I loved your presentation, but don't rest on your laurels – don't ever forget that you are entrusted with hundreds of millions of dollars of shareholder money – so don't waste it or get lackadaisical or I will find another agency who appreciates my business." He was pretty direct – and I appreciated it and never forgot his advice. In fact, it made such an impression that I often tell the folks at ORION Trading: "Fall in love with our clients, because without them – we have no place to go to work in the morning."
4. What's your favorite guilty pleasure?
My favorite guilty pleasure is Top Gear on BBC. I love cars and I love British humor and so combine those two and you've got my attention!
5. How do you spend the first hour of your day?
My train ride into work is exactly one hour – so, my first hour is on the train! During the trip, I am on my mobile device, trying to catch up with the ORION Trading offices in Europe and Asia (who are ahead of me). That's the peril of a global job – you're always playing catch up with someone!
That wraps up our interview with Tom. Come back soon to check out our next Five in Five interview. While you wait, check out our newly published eBook 'The Smart Marketer's Guide to Local Digital Advertising' and learn how local digital advertising can deliver big benefits for your business.
Hannah Hill is a marketing specialist at Mediaspace Solutions. Her marketing experience includes writing, inbound marketing, social media and event management. You can connect with Hannah on LinkedIn, Facebook or Google+.