Trying to find one word that describes the social media revolution of the early 21st century is near impossible. With so many social media websites in play, it's difficult to find that one magic word that can perfectly describe the capabilities of each individual platform. There is, however, one 21st century buzzword that can relate to Facebook, Twitter, Instagram, and Pinterest, and other like-platforms on the worldwide web. Ladies and gentleman, let me introduce you to the hashtag. A word that your grandma may confuse with hash browns or price tag, but a word that is central to the promotional and content-sharing features of several social media websites today. If you haven't already, now is the time to get in touch with this industry essential.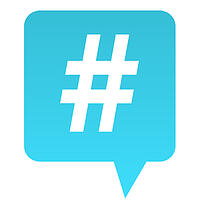 After bursting onto the scene with the advent of Twitter, the hashtag has now been integrated into a number of social media websites including Pinterest, Tumbler, Google+, Instagram, LinkedIn, and most recently Facebook. While you may have heard someone close to you announce that he/she is "#winning," the concept can take on a much more important and serious role in the business world. For marketing and advertising purposes, hashtags have become a valuable tool in an effort to improve the one thing everyone wants in a digital world: online visibility. By investing time in learning how to properly use hashtags, industry workers have been able to raise brand awareness and engage with consumers in a way that has little alternative.
First and foremost, it's important to understand the logic behind the whole hashtag concept. According to b2bmarketing.net, using a hashtag in content-sharing activities makes it possible for users to "associate their content with a theme denominated by the hashtag itself." For example, using the hashtag #shoplocal in your post would correlate the content you're sharing with conversation around local shopping. Because they become automatically indexed, users can then click on #shoplocal and see all posts that have incorporated the same hashtag. This ability to link users and businesses together through a hashtag drives social conversation and in effect helps marketers find engaged consumers.
Hashtags can also serve as a market research tool and form of advertising to marketers wishing to grow their brand online at virtually no cost. By encouraging users to incorporate specific hashtags in their posts, a brand can receive free promotion from the best possible source: consumers themselves. Rather than relying solely on your business to increase brand visibility, hashtags allow marketers to let social media users help find new target audiences. As a market research tool, hashtags can assist marketers in learning what potential consumers are talking about online, and thus gain a better understanding of how to reach them in a campaign. Businesses can also address consumer ideas, questions or concerns by asking users to attach a specific hashtag to a post, making consumer-to-business communication very easy.
To learn more about businesses that have successfully integrated hashtags into a variety of marketing campaigns, check out this article on socialmediatoday.com.
While hashtags can serve a very valuable purpose as a part of a large-scale national campaign, they can also be used to help identify and zero in on potential consumers at the local level. At Mediaspace Solutions, we understand the many benefits of local advertising and work with businesses to identify local strategies that can increase campaign visibility. Check out our eBook titled The Ten Benefits of Local Advertising to learn more about how local advertising can take your ad campaign to the next level.
Kyle Stowe is a marketing intern with Mediaspace Solutions. He will begin his senior year at the University of Minnesota this fall majoring in journalism with an expected graduation date of May, 2014. His previous internships include stints with Clear Channel Media and Entertainment and the Walt Disney Company. You can connect with Kyle on Twitter, LinkedIn, and Google+.