Mediaspace Solutions' Five in Five interview series highlights individuals in the advertising and marketing field and their path to success. Interviewees answer five questions, varying in scope, and it is our hope that you are able to take something away from each interview in the series.
Catherine "Kanoe" Corpus is the Advertising Manager at Wilson Electronics, the leading manufacturer of cellular signal boosters in the United States. A native to Hawaii, Catherine moved to Utah where she studied communications with an emphasis in advertising at Southern Utah University. Catherine has been in the advertising industry for about 13 years where she specializes in developing integrated marketing/advertising campaigns.
Below is our Five in Five interview with Catherine.
1. What's the one mobile app you can't live without?
Being in advertising I consider myself the ultimate consumer guinea pig. After test trying each app, I realized that I have too many favorites to name just one. My Facebook app has the most miles on it. It is my go-to app that I use in between meetings or while running errands. I not only use it to stay connected with friends and family, but it allows me to keep up-to-date on current events and industry news. Another favorite is Navigator. Anyone who has ever driven with me knows my Navigator app and I have a special relationship. She lures me into a false sense of security, allowing me to think that I can find anything, anywhere, without getting lost. Then right when my confidence is at its peak she repeats the one word that causes me to panic and sweat – "Recalculating."
2. How do you get your news?
I am a trending junkie. I'll skim my Twitter feed, Facebook and subscribed eNewsletters for headlines that peak my interest. My go-to outlets are Mashable, Yahoo, Advertising Age, CMO, B2B, and the New York Times.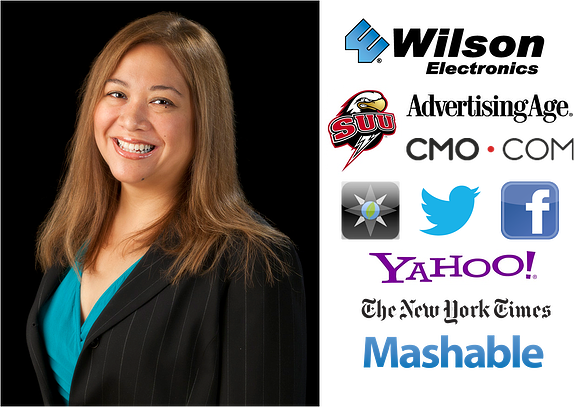 3. What is the toughest lesson you've learned in your career?
Pay attention to the details! I used to think that as long as the job got done the fine print or little things didn't make a difference. Oh, how wrong I was. I learned very quickly that everything in life is in the details. So pay attention! Secondly, I know this might sound a little cliché, but it is as true today as when it was first spoken: love what you do. Trust me, when you do what you love, it is no longer work but an adventure. Your enthusiasm and passion will shine through, and it is contagious.
4. What's your favorite guilty pleasure?
Sometimes life gets so busy I really can't stop to smell the roses, as they say. But give me a good book, the sun and a beach and you'll find me the happiest person in the world.
5. How do you spend the first hour of your day?
I am a night owl so the first hour of my day is usually spent convincing myself that it's time to get up. But once I'm into work mode my routine is pretty much the same. I have a daily positive quote book that I read from each morning. That usually sets my tone for the day. Then it's off to emails, returning phone calls and then trending news.
That wraps up our interview with Catherine. If you'd like to be a part of our Five in Five interview series, email Scott Olson for more information. In the meantime, download "The Smart Marketer's Guide to Local Digital Advertising" to learn the many benefits of local digital advertising.
Hannah Hill is a marketing specialist at Mediaspace Solutions. Her marketing experience includes writing, inbound marketing, social media and event management. You can connect with Hannah on LinkedIn, Facebook or Google+