Have you ever browsed the web on your smartphone while listening to the radio? How about casually page through a magazine while the TV is on? If you have, you are a media multitasker, the industry phrase for a person who consumes content from more than one media platform at a given time. As digital channels become further integrated into daily life, consumers today are taking advantage of the increased opportunity to participate in the simultaneous usage of media. Thanks to technological advancement, we're now able to pull out our smartphones and check Facebook and Twitter while commercials are on TV, and use tablets to view augmented reality advertisements in magazines. The more platforms the merrier, right?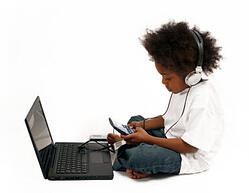 Not so fast. Media multitasking may enhance the consumer experience, but marketers in 2013 must overcome a clear challenge that accompanies the behavior: How to engage distracted audiences. For obvious reason, a consumer wouldn't be as focused on the television as they might be if they weren't reading content on their smartphone at the same time. Likewise, the same person wouldn't digest information from their phone as well as they could if they didn't need to look up at the TV every 10 seconds. As consumers continue to be immersed in such multi-platform experiences, marketers are working to overcome distracted audiences by developing media strategies to make shifting eyes work in their favor.
One promising opportunity industry experts see in media multitasking is the ability to go after consumers from different platforms at the same moment in time. When consumer activity across multiple platforms is focused on similar content, marketers believe there is a chance for multi-channel advertising to be an effective engagement tool. While media multitaskers may often use platforms for unrelated activities, there are many situations in which a person will use a smartphone to further research a product they see on TV, or pick up a tablet to find directions to the store that's airing a commercial on the radio. These direct-response behaviors are what can turn the distractions of simultaneous media usage into lucrative advertising opportunities.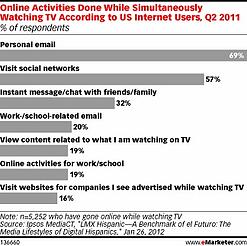 According to eMarketer, a Q3 2011 survey found that 19% of smartphone and tablet users "reported using their mobile devices to seek information related to a commercial." Additionally, eMarketer reports that a Q2 2011 study conducted by Ipsos MediaCT discovered 16% of survey respondents said they go to company websites after viewing their TV ads. They may be small numbers, but they stand as proof that content on one medium has the power to drive consumers to related content on another. If marketers are able to identify the responsive actions users take when interacting with multiple platforms, they can capitalize on media multitasking by targeting consumers through different devices at once. Just another way multi-channel marketing can benefit an advertising campaign today.
In spite of the fact that simultaneous media usage can divert users from being fully engaged with a specific medium, it's becoming more evident that a detailed and well-planned campaign can use media multitasking to its advantage. At Mediaspace Solutions, we believe advertising with multiple media vehicles together will help your campaign not only engage with distracted audiences, but also facilitate your goal of reaching new markets and consumers. Check out our eBook titled The CMO's Guide to Integrating Print and Digital Media to learn more about the intriguing possibilities of multi-channel advertising.
Kyle Stowe is a marketing intern with Mediaspace Solutions. He will begin his senior year at the University of Minnesota this fall majoring in journalism with an expected graduation date of May, 2014. His previous internships include stints with Clear Channel Media and Entertainment and the Walt Disney Company. You can connect with Kyle on Twitter, LinkedIn, and Google+.
Child multitasking image courtesty of The Digital Fishbowl.