Mediaspace Solutions' Five in Five interview series highlights individuals in the advertising and marketing field and their path to success. Interviewees answer five questions, varying in scope, and it is our hope that you are able to take something away from each interview in the series. Subscribe to our RSS Feed so you can stay up to date on 'What's On Tap' and be notified when the next Five in Five interview is published.
Our latest Five in Five interview was conducted with Betsey Griffin. Betsey is the Managing Director, Media at The Lavidge Company, an independently-owned marketing communications firm located in Phoenix, Arizona. Betsey has been selling or buying media for more than 30 years and she is approaching her 10-year anniversary with The Lavidge Company this September. She is an alumnus of Stephen F. Austin State University where she studied Radio/TV Communications and Marketing.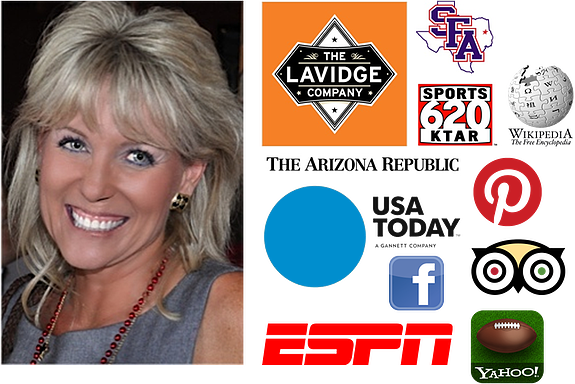 1. What's the one mobile app you can't live without?
There are so many! From a social aspect I love Facebook to keep up with my son, my niece and nephews, and my friends who live out of town. I also go on Pinterest for five minutes and end up spending an hour. For shopping I love Beautypedia's reviews of almost every beauty brand. I consult TripAdvisor and Yelp a lot when it comes to restaurants, hotels and attractions. I use Wikipedia a lot, since I'm constantly wondering about where sports figures are now, where they came from and other random trivia. And with Fantasy Football season upon us I will be on Yahoo's Fantasy Football app daily!
2. How do you get your news?
I am still a traditional when it comes to news. I read the Arizona Republic newspaper daily. I get breaking news via notifications or texts from KTAR (the Phoenix News station), KPHO (Phoenix CBS affiliate), KNXV (Phoenix ABC affiliate) or USA TODAY. Sports news comes from ESPN or KTAR 620 AM, a local Phoenix sports station.
3. What is the toughest lesson you've learned in your career?
Make sure you do what you love. As a Media Planner/Buyer who left the sales realm after 10 years selling I was never comfortable in a sales role. I did well at it, but it always felt like I needed to make every client fit into my media and it wasn't always a fit. When I started planning and buying media I appreciated using a media mix to get the client's message out. It was much more rewarding and brought greater results that I could attribute to my efforts. It also challenges me daily, as media is always changing and there are new mediums, measurement techniques, and a constant change of people in all roles. It is wonderful to have a career where you look forward to going to work each day.
4. What's your favorite guilty pleasure?
Again, I have a lot of these! When it comes to time, spending hours reading a novel, being out on the golf course or snow skiing are all wonderful ways to spend a day. For a wonderful meal I probably couldn't think of anything better than grilled lamb chops with a German chocolate cake for dessert. And my most expensive guilty pleasure is travel.
5. How do you spend the first hour of your day?
The first thing I do every day is walk my dogs, Boo and Sassy. Both are shelter dogs; Boo is a Lhasa Apso/Bichon mix and Sassy is a Cairn Terrier mix. They are quite spoiled and wake me up every day at 5:00 or 5:30 a.m. I work out in the evenings on work days, so the rest of my morning is spent getting ready and getting to the office.
Many people like Betsey still consume traditional media. Download 'Proven Methods for Reaching Educated and Affluent Consumers' to learn how to maximize one of the most overlooked advertising channels: newspapers.
Hannah Hill is a marketing specialist at Mediaspace Solutions. Her marketing experience includes writing, inbound marketing, social media and event management. You can connect with Hannah on LinkedIn, Facebook or Google+.