Mediaspace Solutions' Five in Five interview series highlights individuals in the advertising and marketing field and their path to success. These interviews contain answers to a combination of traditional work-related questions and questions revolving around their personal interests, all of which help us get to know the advertising leader a little better. It is our hope that you are able to take something away from each interview in the series. We've published a handful of interviews with a variety of successful individuals this year. If you missed our last Five in Five interview with Betsey Griffin of The Lavidge Company, you can view it here.
We most recently interviewed Ron Phillips. Ron is the President of Leawood Productions, dba Luminaire in Ojai, California. He serves as Creative Director for SelectQuote Insurance Services headquartered in San Francisco, California. Ron was a VP Senior Creative Director for N.W. Ayer in New York and the Campbell Ewald advertising agency in Detroit. He left the agency business to become a commercial director. Ron directed commercials for virtually every major American advertising agency and client. He won every premier TV commercial award including a Cannes Silver Eagle. Ron has been Creative Director for SelectQuote for the past 16 years. He published his first novel, "Donnyboy" in 2012. He is an alum of the University of Kansas where he studied Advertising/Journalism.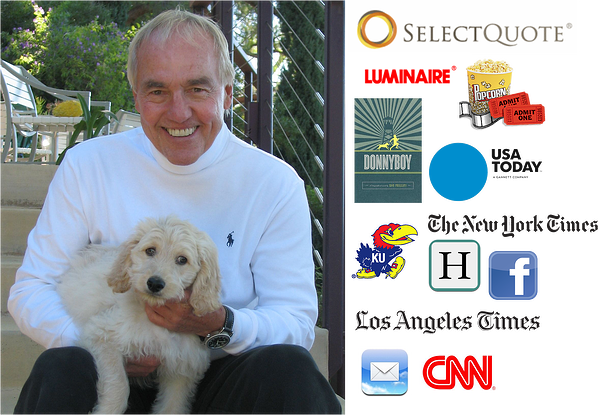 Below is our Five in Five interview with Ron.
1. What's the one mobile app you can't live without?
My absolute most important mobile app is hardly unique, "Mail." I travel a lot for business and pleasure and I have to be able to respond quickly to emails from SelectQuote offices in San Francisco, San Diego, Kansas City and Jacksonville wherever I may be. I also need to be in frequent communication with Kenyon Phillips who works on SelectQuote with me out of New York City. We also use Facebook frequently when Wi-Fi is available. It's unbelievable how something as simple as Mail extends my reach. Editors send me compressed files of cuts, composers send me music cues and graphic designers send me titles and ad layouts. I am in touch with the world with my iPad and iPhone virtually anywhere I am —my car, an airplane, a cruise ship, a hotel in Cape Town.
2. How do you get your news?
Every morning I read the New York Times and Los Angeles Times on my iPad. During the day I get notifications from the New York Times, the Huffington Post and USA TODAY. If I want to follow a developing story I watch CNN on my iPad.
3. What is the toughest lesson you've learned in your career?
For me it was to realize I can't control everything and I shouldn't try to. This has made my life so much easier and it has allowed our creative work to be much more free and fresh. I learned some time ago the best thing you can do as a film director or creative director is to surround yourself with the most talented people you can find. Listen carefully to their ideas. Enthuse them. Respect them. And give them the freedom to fail.
4. What's your favorite guilty pleasure?
Sneaking off to the movies for a matinee during the week and eating buttered popcorn.
5. How do you spend the first hour of your day?
I spend the first hour of my day stretching and doing stomach exercises, reading the New York Times on my iPad and walking my dog Max on the trails around our home in glorious Ojai, California.
That wraps up our interview with Ron. If you'd like to be a part of our Five in Five interview series, email Scott Olson for more information. In the meantime, download "The Smart Marketer's Guide to Local Digital Advertising" to learn the benefits of local digital advertising.
Hannah Hill is a marketing specialist at Mediaspace Solutions. Her marketing experience includes writing, inbound marketing, social media and event management. You can connect with Hannah on LinkedIn, Facebook or Google+.