Mediaspace Solutions' Five in Five interview series highlights individuals in the advertising and marketing field and their path to success. Interviewees answer five questions, varying in scope, and it is our hope that you are able to take something away from each interview in the series.
We most recently interviewed Emily Russel for our Five in Five series. Emily is a Media Supervisor at Crossmedia in New York where she manages client accounts; supervises planners and buyers; and develops campaign and brand strategies.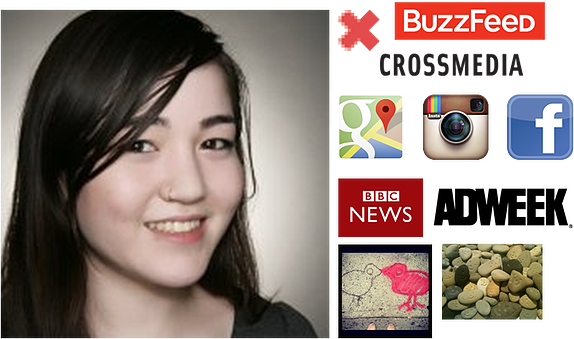 Below is our Five in Five interview with Emily.
What's the one mobile app you can't live without?
GOOGLE MAPS!! I love exploring and traveling and am always up for a good adventure. However, I also have an innate ability to get lost in the most fantastic way (I've gotten lost in supermarkets, malls and once in a parking lot) so Google Maps is my best friend and constant companion.


How do you get your news?
I'm a big fan of getting my news through social media. I follow publications and companies like AdWeek, BuzzFeed, The Week, and BBC on Facebook to get up-to-date news and I follow my favorite brands on Instagram to get updates on new products or stores. I also glance at a few newsletters, but I'm a social media addict so it's just a more convenient outlet for me.


What is the toughest lesson you've learned in your career?
There will always be terrible people who move forward ahead of you. It's disheartening to see people you think are awful (either as humans or as coworkers) get promoted or noticed before you, but I've found that the only thing that matters is your own progress and growth. That keeps me focused on working my a** off; sharing my opinions and expertise more confidently; and building my own experiences and success. Nothing these other people do will ever be as important to me as my own career and life. In the end, it's all about me.


What's your favorite guilty pleasure?
I like to learn. It ranges from super dorky - like researching media channels or watching a new anime show - to normal - like trying new foods, exploring bars, museums and cities. I even get excited learning about mundane things like how to change tires or how doorknobs work. I'm like a little kid when I realize I can learn something new. As a result, I'm often the only person in the office who knows how to hook up the projector or use the copier or discover a shortcut in Excel.


How do you spend the first hour of your day?
SILENTLY. I need the morning to get my caffeine fix, read emails and prepare mentally. I hate it when people try to talk to me as though I'm as awake as they are. My first boss used to call me "sleepy eyes" every morning because I'm just a disaster before 10 a.m. Generally I think everybody needs to calm down. Unless you are in a car with a siren, nothing is so urgent that you need to talk to me in the morning.
That concludes our interview with Emily. Come back soon to check out our next Five in Five interview. While you wait, check out 'The Smart Marketer's Guide to Local Digital Advertising' and learn how local digital advertising can deliver big benefits for your business.
Hannah Hill is a marketing specialist at Mediaspace Solutions. Her marketing experience includes writing, inbound marketing, social media and event management. You can connect with Hannah on LinkedIn, Facebook or Google+.