The number of mobile devices is quickly exceeding the number of people in the world, according to a recent Millennial Media/comScore study, which explains why mobile is quickly becoming a go-to medium for advertisers. Additionally, eMarketer recently estimated media consumption among U.S. adults and discovered that time spent with digital media will soon exceed TV time, largely due to the significant growth in mobile. It is also estimated that adults will spend two hours and 21 minutes per day, on average, on their mobile devices doing non-voice activities this year. Any idea what that number looked like last year? Just one hour and 35 minutes, which means there was a year-over-year increase of 46 minutes. I hate to be the bearer of bad news, but our days didn't get any longer from one year to the next. We just spent more time playing with our phones. Let's take a look at what this means for today's advertisers.
In a blog post written earlier this year we learned that one in two mobile users is open to receiving ads on his or her mobile device as long as the ads are relevant and beneficial. That's really not a lot for consumers to ask. Jayne Dow, director of qualitative research and digital innovation at Millward Brown's Firefly, London, offers this advice to advertisers.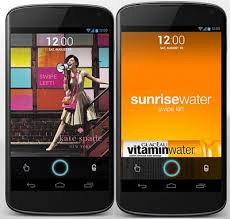 "Mobile advertising experiences that create a more balanced consumer experience, ones that respect time and provide a useful outcome, open the door of receptivity and have a positive impact on brand. If a brand is going to pursue a reward-based advertising strategy, there are also some key implications to keep in mind. Ninety-two percent of mobile consumers report it's important they choose the reward they receive, and 68 percent of users prefer to know for certain they will get a reward, rather than be surprised."
Here's the gist of it: If you want consumers to act on your mobile advertisements, then you have to entice them with rewards. Doing so will increase receptivity and engagement which will ultimately move consumers further along in the buying process. A little bribery can go a long way.
Strapped for cash this month? Never fear. Just download Locket, a fairly new Android app, and get paid every time you unlock your mobile phone. That's right. Every. Single. Time. And if you're anything like the average Joe, that's about 100 times per day. (Note to self: Stop compulsively checking phone throughout the day.) Locket's mission is to find a way for brands and consumers to connect in a way that rewards everyone. Advertisers like Amazon, Orbitz and Spotify are already partnering with Locket to reach consumers on the lock screen of their

smartphones in an effort to gain exposure and visibility among their target demographic. Here's how it works: When you open your phone you'll see an ad. Swipe left to engage with the ad or swipe right to go straight to your phone. You'll get paid either way. This forward-thinking app allows advertisers to target consumers based on gender, age, location, time of day and even brand device. If you're using the app, let us know in the comments section below. We'd love to hear what your experience has been like so far and what you're doing with the extra stream of cold hard cash.
Depending on the success of rewards-based ads, consumers may come to expect an incentive for engaging with any and all advertisements. But it'll be up to advertisers to determine if those incentives are worth the investment. Check out our latest eBook for local digital advertising solutions that might be beneficial to your business. Plus, you'll learn the advantages of direct to site media buys versus buys placed through traditional ad networks. Click here to download 'The Smart Marketer's Guide to Local Digital Advertising.'
Hannah Hill is a marketing specialist at Mediaspace Solutions. Her marketing experience includes writing, inbound marketing, social media and event management. You can connect with Hannah on LinkedIn, Facebook or Google+.