According to the 2013 Hipcricket Holiday Mobile Commerce Survey conducted in September 2013, mobile will drive holiday shopping this year. Of those surveyed, 53% said shopping on a mobile device is more attractive than visiting a retail location. Having battled the crowds and the occasional Grinch at a cash register, I don't blame them. Plus, mobile shopping might increase your ability to multitask this season. Think cookie baking and decorating the tree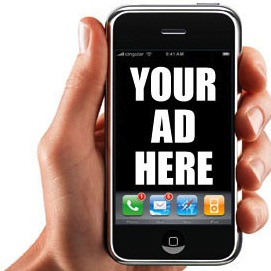 while shopping. Also worth noting is the fact that 42% of respondents plan to shop more on their smartphone or tablet this year than they did in 2012, and 35% will spend more than $250 while shopping on their mobile device. Mobile shopping is gaining popularity among consumers and the advertisers who develop campaigns targeted at mobile users are going to reap the benefits.
"Mobile now accounts for almost 13 percent of all e-commerce transactions," said Doug Stovall, COO of Hipcricket. "Companies not engaged with mobile consumers this holiday season are losing out on tremendous revenue opportunities." Let's think about that for a minute. Companies that choose to forgo mobile won't be as successful as their mobile-ready competitors. Isn't the goal usually to win the most foot traffic during the holiday season? If mobile can help, then it should be utilized. Think of it as Santa's little helper.
"Mobile is the only medium that allows companies to connect and engage with consumers at every step on their path to purchase," said Mr. Stovall. "Consumers are using tablets and smartphones to research products, look for the best deals, organize shopping lists, read reviews, ask friends and family for advice and purchase items. They do this at home and in stores. If you want to connect with consumers at all these points, mobile is the only way to do it."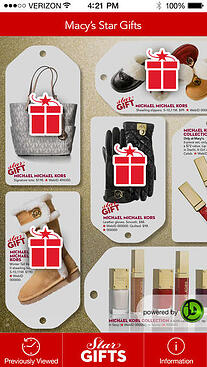 One retailer that recognizes the importance of connecting and engaging with consumers both inside and outside of the store is Macy's. Mobile advertising is a big part of the retailer's strategy this holiday season, thanks in large part to Macy's Star Gifts app (available free on iTunes and Google Play) which uses image recognition technology. Macy's shoppers can use the app to scan products they see in the holiday catalog, newspaper inserts and out-of-home ads to receive more product information and get gift ideas. They can even purchase holiday gifts directly through the app while they sit at home watching chestnuts roasting on an open fire.
"Visual recognition technology is the next evolution of our mobile strategy, leveraging Macy's omnichannel capabilities to be everywhere our customers are in order to enhance their shopping experiences on the go," said Martine Reardon, Macy's chief marketing officer. "This new application of technology will assist us in delivering helpful and relevant content to mobile shoppers while at the same time providing them with the opportunity to get their holiday shopping done with ease."
What will you be most likely to purchase via a mobile device this holiday season? The results of the 2013 Hipcricket Holiday Mobile Commerce Survey are ranked below:
1. Books
2. Clothing and footwear
3. Music and video
4. Consumer electronics
5. Event tickets
I'd be more than happy to receive any of those items, especially from any of my devoted readers, so if you want me to be the guinea pig recipient of your first mobile purchase, just say the word and I'm in. You won't have to twist my arm too hard.
If this blog post has you spinning your gears and wondering if mobile advertising is the next step for your business, download 'The Smart Marketer's Guide to Local Digital Advertising.'
RELATED POSTS:
Image credit: Street Fight, iTunes
Hannah Hill is a marketing specialist at Mediaspace Solutions. Her marketing experience includes writing, inbound marketing, social media and event management. You can connect with Hannah on LinkedIn, Facebook or Google+.