When it comes to holiday advertising, the recipe for success isn't as simple as the recipe for Grandpa's famous gingerbread cookies. Some consumers prefer sentimental ads while others prefer those more humorous in nature. Chances are your favorite holiday TV spot differs from that of your brother or even your best friend. Holiday advertising doesn't fall into the one-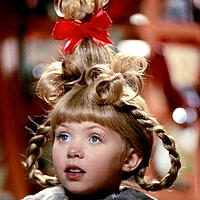 size-fits-all category; some like it naughty while some like it nice. According to a study done by Viamedia, Americans want to see a lot more Scrooge in holiday advertising and a little less Cindy Lou Who, if you know what I mean. Advertisers take note: the study found that American consumers would like to see holiday ads featuring the best way to return a bad gift or how to shop for people they don't like. The creative team behind the Harvey Nichols ad highlighted below must have taken that study to heart, so it looks like our friends across the pond want more Scrooge, too.
Alternatively, Peter Daboll, CEO of Ace Metrix, a company that specializes in television advertising analytics, says the ads that are sticking out this year revolve around the following themes: food, family and philanthropy. I am a fan of all three, as I'm sure many of you are, so it's no surprise why we are drawn to holiday ads that incorporate those components. Ace Metrix rated ads from Kohls, Pillsbury, IHOP and USPS to be the most effective holiday themed ads of 2013 based on likability, ability to attract attention, content and relevance. For more on Ace Metrix and what makes an effective holiday ad, check out this Bloomberg Video. Then continue reading to see some of the most talked about holiday ads of the season. I'll let you play Santa and judge which ads are naughty and which are nice.
Kmart: Show Your Joe
This Kmart ad has been viewed more than 16 million times since it was released by Kmart in the middle of the holiday season. If you somehow managed to escape it amid your holiday baking and decorating, take a look.
Due to the humor and the controversy of the ad, it was all everyone talked about the days following its release. I even watched some local news anchors debate the ad while running on the treadmill at the gym one evening after work. The news anchors, both male, didn't think there was anything wrong with the ad and said it was funny, memorable and easy to determine the product Kmart was trying to sell. I have to agree on all three points. Sometimes advertisers spend so much time focusing on thinking outside the box that they forget to promote what is actually in the box, so to speak. While Kmart's advertising may be a tad more risqué than most, Santa probably won't be leaving coal in the discount retailer's stocking next Tuesday night.
NBA: Jingle Hoops
I was impressed with this NBA ad for special edition Christmas Day uniforms.
Did it inspire me to buy a uniform for anyone on my Christmas list? No, but I shared the link with a handful of people and maybe one of them jingled all the way to the NBA Store, I can't be certain. Celebrity endorsers like LeBron James increase the credibility of ads and inspire fans to open up their wallets, even for something as trivial as special edition Christmas Day uniforms.
Harvey Nichols: Sorry, I Spent It On Myself
'Tis the season for giving, or so I thought. This holiday ad from U.K. department store Harvey Nichols is telling a slightly different story.
Here's the reasoning behind the ad: "At this time of year it can be all too easy to get caught up in the spirit of giving," says client marketing director Julia Bowe. "Our new 'Sorry, I Spent It On Myself' gift collection will provide our customers with low-cost gifting options for others that will allow them to spoil themselves that little bit more this Christmas." It's a clever advertising campaign, but I'm crossing my fingers that I don't get a box of toothpicks, paperclips or gravel for Christmas this year. I can't say that Christmas lunch in a can is on my wish list either, though it could be the perfect white elephant gift for the company holiday party. Although this ad might land on Santa's naughty list, it did its job: When I visited the Harvey Nichols website to check out the whole collection everything was already sold out. Talk about an effective holiday advertising campaign.
In closing I'll leave you with this super cheesy musical ad from KFC claiming that "one of everybody's vices is 11 herbs (pronounced with the "h") and spices." You can leave your thoughts in the comments section below.
Whether your advertising strategy is naughty or nice, we hope it yields the desired results this holiday season. If your products or services are geared toward the Boomer generation, our gift to you is our new eBook 'The Benefits of Marketing and Advertising to Baby Boomers.' Enjoy and happy holidays.
RELATED POSTS:
Hannah Hill is a marketing specialist at Mediaspace Solutions. Her marketing experience includes writing, inbound marketing, social media and event management. You can connect with Hannah on LinkedIn, Facebook or Google+.