It should come as no surprise to you that we at Mediaspace Solutions love media buying. No, we are not professing this love to you because Valentine's Day is this week or because someone told us to get more in touch with our emotions. Media buying is at the core of our business and we simply love what we do and want the world to know it. That's sort of why today's blog post is focused on why we love media buying so much and you should, too. While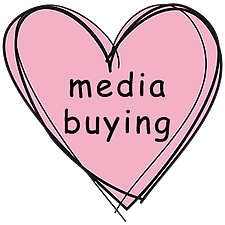 we don't expect you to fall head over heels in love with media buying right away (though it could happen), we want you to understand why we love what we do for our clients.
We love helping clients determine the right media mix for their target market
With an abundance of advertising channels to choose from, it can be daunting to make the right selection. That's where we come in. We work with clients to understand their target market and then determine the best combination of media to reach that audience. We can buy, plan and place both print and digital ads, so rest assured we will be able to reach your target market at the right time. We love helping advertisers find their target audience because it increases their success.
We love helping clients achieve their advertising goals
Before kicking off an advertising campaign, we work with the advertiser or agency to determine the success metrics for the campaign. Whether the client's goal is to increase awareness, drive leads or increase store traffic, we make it a priority to develop a media plan that will deliver results. After we learn our clients' advertising goals, we do our best to meet or exceed them. Included below are a few examples of the advertising goals we've helped our clients achieve:
Increased subscription rate
Increased brand awareness in hyper-local markets
Increased store traffic
Increased click-through rates
Increased sales
Increased return on advertising investment
Decreased cost per sale
We love helping clients save money on advertising
We often wonder why some advertisers continue to pay rate card when it is more than possible to pay less. Way less, especially when you consider a brand's advertising expenditures during the course of a year. Working with a media buying agency like Mediaspace Solutions gives clients the upper hand when it comes to rate negotiation. Our media buyers negotiate until they are red in the face to get the best rates for our clients and they deliver huge savings. Let us do the same for you. What you choose to do with the money you save is up to you, but most of us like chocolate.
Hopefully you understand a little bit more about our passion for media buying after reading this post. If you would like to achieve your goals, save money and determine the right media mix for your next campaign, give us a ring at 888-672-2100. Download 'The CMO's Guide to Media Buying' and learn how to create an effective media buying strategy. Within the pages of that free eBook, you'll read about how a media buyer can help you optimize your advertising budget and determine the right media mix for your next advertising campaign.
RELATED POSTS:
Hannah Hill is a marketing specialist at Mediaspace Solutions. Her marketing experience includes writing, inbound marketing, social media and event management. You can connect with Hannah on LinkedIn, Facebook or Google+.