The following is a guest post by Jenna Bruce.
Walk into any Walgreens, CVS or Rite Aid this time of year and you'll see it – that seasonal aisle lined with cellophane-wrapped Easter baskets containing various cavity-inducing candies. Now, as a kid, I saw an Easter basket as a giant sugar rush. But as an adult, I see an Easter basket not simply as chock-full of sugar, but chock-full of effective local advertising strategies. Stay with me here.
Target Your Ideal Customers
Marshmallow Chicks – They're not for everyone. I've met many individuals who simply never embraced the gooey marshmallow bird with the same enthusiasm I did as a child. Different strokes for different folks, I guess.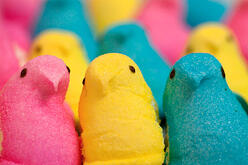 Targeting is a critical component to any campaign, especially in local advertising. Considering that three-quarters of consumer spending happens at retail locations within a 15 mile radius of consumers' homes – targeting ensures the most relevant consumers walk into your store. By utilizing online and offline data, you can understand your demographic and serve up ads that are tailored only to those individuals interested in your product or service.
Embrace Digital Advertising
I remember the first time I ever got a bag of candy coated almonds in my basket. They were new, they were different, and I wanted nothing to do with them. Then I tried a few and realized they were pretty awesome.
Many small and medium sized businesses are used to traditional advertising channels like newspapers, magazines and radio spots, and while those channels can be highly effective at reaching your audience, you shouldn't avoid digital advertising just because it's new and a bit scary to you.
Digital advertising has the ability to deliver meaningful messages to your target audience at just the right time in a cost-effective way. It also affords you the ability to repurpose existing campaign content, such as from a direct mail piece, which can save time and scarce resources.
Claim Your Online Listings
One year the "Easter Bunny" accidentally left one of the baskets at the checkout counter and didn't realize it until Easter morning when she found only the one hidden in her closet. So, that year, my sister and I had to share an Easter basket. I never let my mother live that one down. At any rate, as my sister was removing the cellophane from the basket, I got into a position that would allow me to pounce on the candy I wanted, claiming it for myself. There would be no delicate splitting of candy that year, my sister and I were smart enough to know that. We would simply grab and claim what was rightfully ours. She claimed the giant milk chocolate Easter bunny and I claimed everything else.
Many businesses are unaware they have digital profiles on major local platforms like Google+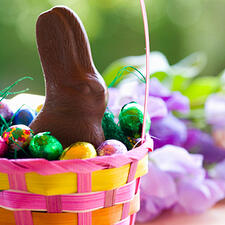 Local, Yelp and Foursquare. Google will often create business listings based on information that is available online, and many customers will create a business listing in order to leave a review about a company. It's important to search for your business on these platforms and, if you find a profile you didn't create, claim the business as your own and verify it. Just doing this can help you rank higher in search results.
You should also make sure all the information about your business is correct. This includes spelling, address and telephone numbers, as well as category. If you do a search and don't find any profiles, create them yourself so you can be found by potential new customers.
Seriously, Just Go Mobile Already
The Easter Bunny is not an idiot. There's a reason he (or she) delivers all that candy in a little basket instead of, say, a bowling ball. Because little baskets are easy to carry – hence, they are mobile.
The Local Search Association and comScore, Inc. conducted a study which points to the fact that search, using non-PC devices like smartphones and tablets, continues to grow at a significant pace. "The continuing shift of mobile usage signals an opportunity for local businesses to evaluate where they devote their online ad spending," the report reads.
Here are a couple key findings in the report:
Traffic to online directories and other local resources from non-PC devices more than quadrupled in 2012, reaching 27 percent share of total web traffic in December 2012 from 6 percent share in December 2011.
48 percent of U.S. mobile users used their devices to access local content in December 2012, up from 42 percent in December 2011.
Mobile marketing is clearly a powerful tool to reach ready-to-buy consumers on a local level.
The only thing sweeter than a tiny wicker basket full of milk chocolate goodness is getting more customers to walk through your door and buy from you time and time again.
RELATED POSTS: