Without question, social media has forever changed the way consumers and healthcare organizations interact online. Before sites like Facebook and Twitter, communication was a top-down, one-way "dialogue."
But then social media came along and completely redefined the traditional roles of consumers and businesses. No longer were businesses and their marketing teams in control, consumers now had a say, and a big one, in what information they received, how and when.
Healthcare Organizations Can Greatly Benefit from Social Media
As the use of social media increases among consumers, particularly older Americans, the benefits of SMM to healthcare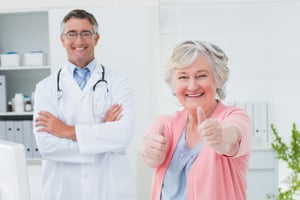 organizations has become more obvious.
Increased and Better Interactions
Patients diagnosed with chronic illnesses or disease generally turn to the internet to find answers. This allows healthcare practitioners to engage, educate, and attract new clients.
Expand Your Range of Knowledge
A physician in a small community can sometimes see a case that is baffling. Social media allows practitioners to connect with others around the globe, broadening their scope of knowledge.
Public Health Surveillance
Granted, social media was not designed to gather data on public health, and it should never replace traditional data sources. But the fact remains online communications reflect the population's feelings and behaviors regarding lifestyle and disease risk.
Social media can offer healthcare providers and advocates a way to disseminate information and provide timely forecast of disease incidence. Social media can also measure consumer awareness of and reaction to public health messages and campaigns.
How to Conduct a Social Media Audit
An industry study found that 57% of consumers' decisions to receive treatment at a healthcare facility are strongly influenced by that provider's social media connections. What does this mean? It means today's patients more easily trust providers with a strong social media presence and following.
With this in mind, here are the steps your organization should take to conduct an audit. A robust audit will help you optimize your overall marketing strategy.
Step 1 – List Your Channels
Start by creating an excel spreadsheet list all of the social media accounts you currently own. This should include accounts that you've set up but aren't active.
Along with the various sites, list the passwords, emails and account administrators associated with each account. This will help you change permissions or access for admins who no longer manage these accounts.
Step 2 – Update or Create Information
Have you fully completed the ABOUT sections for each one of your social media accounts? Do all of the outbound links to your website and other landing pages work correctly? Do you have any pinned items at the top of your feed that seem a bit dated? If so, unpin them.
Step 3 – Check Those Images
Consumers of information respond to images more than text. But that doesn't mean that any old image will do.
Check the images you are currently using on your SM pages. Are they 'on brand?' Do they convey the right message? Are they viewable on mobile devices? Do you have permission to use these images?
Step 4 - Check Consistency
And speaking of images, they are something you can use to help you be consistent across all networks. Also make sure your logo and other branding items (colors, fonts) are consistent as well. Think from the consumer's POV. Would you be able to identify your organization across all sites?
Step 5 – Determine Your Audience
Gather some data on your existing audience to see who exactly is interacting with you. Are they your target market? If you are a pediatrics office, you won't find retired consumers to be your ideal market. If you are an OBGYN, college-aged men are not your ideal market either.
Things like Google Analytics, Facebook Insights and Twitter Analytics can give you detailed demographic data, including occupations, interests, and the gender split of your audience. The more you know about your audience, the better you can reach them with your key messages.
Step 6 – Determine Your Post Rate
Effective marketing is a byproduct of engaging the right audience at the right time and at the right place. How often are you posting? What times are you posting and what results have you been getting? If you aren't getting the results you'd like, experiment with these amounts and times.
Step 7 - Audience Engagement
How engaged is your audience? Are the majority of interactions coming from your ideal customer? Which platforms are giving you the best engagement numbers? For the ones that aren't giving you the engagement rates, consider cutting them loose. There is no rule that says you must be on EVERY SINGLE SM PLATFORM OUT THERE. Your job is to be where your patients are. Only commit to channels that you can consistently deliver valuable information to your target audience.
Step 8 – Spy on Your Competitors
What is your competitors' social footprint like? What type of content are they creating? How often are they sharing it and at what times? Are they active on networks you aren't?
Here's an easy way to determine this: Use Facebook's Pages to Watch feature, which will allow you to compare the performance of your Facebook Page and posts to similar pages and posts at a glance.
These 8 steps will be invaluable to your social media marketing efforts. Once you've completed your audit, you will be in a much better position to create campaigns that will help you reach your desired audience and create deeper connections.
If you are a healthcare organization searching for the best way to reach your audience, get in touch with us. We help providers find innovating ways to gain a competitive edge through the right advertising mix, so they can expand their reach and grow their practice.