In some ways, digital technology makes running a small business simpler. For example, accounting software helps us save on outsourcing payroll and taxes, and apps allow to take payments from customers right on our smartphones.
But in other ways, the ever-evolving digital landscape has made small business marketing a bit confusing at times. I mean, just when we all thought we fiiiiiiinally had regular ol' SEO (Search Engine Optimization) down, along comes local search.
What the heck is local search anyway and why does it matter for your business?
You've probably noticed when you do a Google search on your desktop or mobile device that Google will offer a search option with the words "near me" included. That is local search and the results returned will automatically be narrowed to include only those in your local area.
For example, if you search for "flower arrangements near me" Google will return the florists in your area and typically include a map so you can see exactly how far they are from you.
If you're a brick-and-mortar establishment that only caters to local clientele, then you've GOT to make sure your online presence is optimized for local search. Getting into Google's top local search results can significantly boost your business and your bottom line.
If you've been losing at the game of local search (or haven't even stepped onto the field) here are some ways you can start winning.
Leverage Those Directory Sites
Directories, also called listing sites, contain organized information about companies, websites, and individual people. These sites can be big like Yelp and Merchant Circle, or more of a niche site like Lawyers.com, which is obviously just for and about lawyers.
The point here is, if you don't take control of those listings and fill in the information yourself, the sites will do it FOR you, and they may not get it right. These sites typically pull your company name, address and phone number from any source they find, including government records. If you've made any changes (like your mailing address is now different from your store's physical address) Google will be confused and your search results will take a beating.
So, make sure all of the information on these directories is up to date and accurate.
Get Liked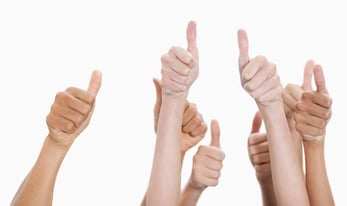 Google likes business that have several online reviews. Because they trust these businesses more, they give them a higher ranking in the search results. Getting positive reviews doesn't have to be difficult. Sometimes all it takes is simply asking for them.
Optimize Your Content
At this point in time you no doubt understand the benefit of content marketing and know that Google loves fresh, relevant content. But what will really push you up in the local search rankings is optimizing your content.
For example, if you are an HVAC company in Baton Rouge, you might write a blog post about getting your air conditioner ready for a scorching summer in "Baton Rouge." If you are a mechanic in Burlington, Vermont, why not write a post about the best winter tires for icy roads in "Burlington, Vermont." Besides making sure to get your location in that content, it should go without saying that the content itself should educate, be helpful and engaging.
For the Love of God, Please Just Go Mobile Already
If you have yet to create a mobile version of your website…
Just do it already. Tools like bmobilized.com and dudamobile.com can get you a mobile website in minutes for under $10.
These stats should help convince you why going mobile is critical to your business.
Become Educated
Local search is the most volatile segment of search. While Google is getting better at rolling out changes, they still come quickly and are usually full of bugs to start. Always set time aside to keep up with the latest changes. If your budget allows, hire a media planner who will help you create and launch successful local SEO campaigns, and show you how combining these with print can blast your revenue through the roof.
If you implement these strategies you will maximize your visibility to become a bona-fide local search winner.
Local search is growing to be more and more important. Right now, a local search on a mobile device displays a first page of three results, also known as the Google 3 pack. Those three companies are going to reap the benefits of new clients the fastest. Want to see how your business is doing in local search? Then try our Free SEO Report Card by clicking here.
g+��H��