Newspaper advertising is the oldest form of advertising and is still used widely today by many businesses for a very specific reason: newspapers are a chosen media purchased by the reader. In other words, advertising in newspapers puts you in front of a very special group of consumers: those who value and are immensely receptive to the information (and ads) they find inside. When your message appears in newspapers, readers believe the editorial content adds credibility and legitimacy to your brand and offer.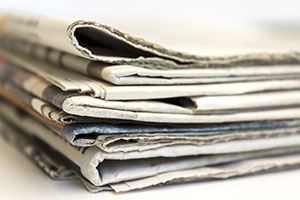 Many businesses already recognize the power of newspaper advertising, but many more are often confused as to whether they should spend their budget on local or national papers. First, let's take a look at the benefits both national and local newspapers offer advertisers.
An Audience that Wants to Hear from You
Newspaper readers don't find print ads intrusive (like they do online, radio and television ads) because they are in control of when (and if) they read them. Beyond this, readers actively seek advertising that alerts them to deals and coupons.
A Targeted Audience
Besides getting your ads placed in the sections of the paper with similar content, newspapers (particularly local ones) can target audiences in other ways by using events such as holidays, or using specific geographic locations such as neighborhoods and streets, and even focusing on specific individuals like parents or ethnic groups.
A Quality Audience
According to the State of the News Media 2013, newspaper readership correlates with higher income levels of $100,000 or more as well as higher education levels.
Leveraged Trust
Newspaper publishers work diligently to create solid relationships with readers and build a loyal customer base. In a sense, newspapers become like a print version of friends and family. Just as friends and family "won't steer ya wrong," readers feel the same about their beloved print publications. Consumers believe publishers only do business with solid companies that can be trusted. Advertising within a trusted newspaper that has a loyal customer base means a brand can build a positive reputation in a short amount of time.
Retention
One of the greatest benefits of print is readers can easily keep content close by for future reference. Try saving a radio or television ad or cutting it out and putting it on your refrigerator. Print ads also have a way of "going viral" in that a newspaper can wind up in the waiting room of a doctor's office and the ads inside will be viewed by many, many people over the course of the week.
Great Flexibility
With newspaper ads you can choose the type of ad and position (classified or feature-section) that will most effectively put your message in front of your target audience. You have great flexibility on the size of your ad, the format, and color so you can achieve the desired impact.
Why Local Newspapers Edge National Papers Out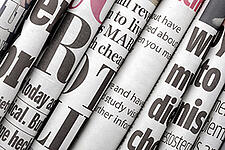 Local newspapers provide a special kind of connection with consumers. While national papers provide a window to a broader world, local papers connect residents to their community and to each other.
According to the 2013 Community Newspaper Readership Study conducted by The Reynolds Journalism Institute (RJI) on behalf of National Newspaper Association (NNA), about two-thirds or 67% of residents in small U.S. communities read their local paper from one to seven days per week. The study concluded that local newspapers continue to be the primary source of information for consumers living in small towns and cities across the country.
Looking further into the numbers, 94% of responders agreed their local paper was informative; 80% said they and their families looked forward to reading the newspaper; 78% said they relied on their local papers for local news and information; and 72% said the newspapers entertained them. The findings of this study suggest the perceived value of local newspapers and the important role they play in community members' lives is a true asset to advertisers.
Sure, national ads offer more exposure, more eyeballs on your ad (possibly) but that exposure and those eyeballs may not mean a hill of beans if you don't get a return on your initial investment. The truth is most small businesses' ad spend would be much better served in local papers.
Another benefit of local newspaper advertising is the rapid turnaround on production changes. If you need to make last-minute changes to your ad (and it's bound to happen at some point in your campaign), the newspaper's advertising department can usually get the job done quickly and not throw you any shade in the process.
As you know, we're big fans of advertising in the newspaper and know firsthand the benefits print ads bring to our clients. Whether you choose to go national or local, we believe newspaper advertising should be the cornerstone of any campaign.
RELATED POSTS: