According to Nielsen's 2013 National Cross-Media Engagement Study, newspapers took top honor when participants were asked their opinions about the most effective advertising channels, scoring higher than TV, radio, and yes, even the Internet. The study also revealed newspapers generate the most engagement with consumers compared to other media.
Digital advertising gets all the hype, yet a recent engagement survey by Harris Interactive on behalf of Goo Technologies2 revealed almost 75% of consumers totally ignore banner ads, 62% ignore social media ads, and 59% ignore search engine ads. That's a whole lot of ignoring going on. By contrast, the study found only 35% of consumers ignore newspaper ads.
What do these figures tell us? Advertising in newspapers continues to be a highly effective way of engaging consumers, creating brand awareness and generating leads and sales, which of course is something we've always known. But now the question is what types of newspaper ads offer the greatest efficacy?
Newspaper Inserts vs. ROP Ads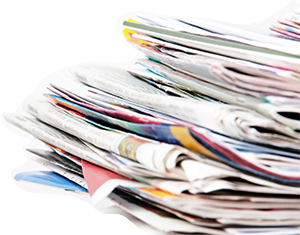 First, let's discuss exactly what Run of Press (ROP) ads and free standing inserts (FSIs) are before we delve into any advantages/disadvantages.
Run of Press ads are those placed in the actual pages of the newspaper, but the advertiser gives the publisher full choice of where they run. Basically, wherever space allows. Advertisers can request their preference of position, and many publishers will try and accommodate, but nothing is guaranteed. The main benefit of ROP ads is they can cost quite a bit less than other print ads. The disadvantage, of course, is not being in control of where your ad is placed. If you're selling sporting equipment, getting your ad placed near wedding announcements may not give you a return on your investment, even if your investment was comparatively low.
Free standing inserts, or FSIs for short, are the bundle of colorful brochures stuck in the middle of the paper. FSIs often contain coupons, specials and information about sales for all kinds of consumer goods. Big national brands like Walmart and Target have been advertising with FSIs for many, many years because they have experienced firsthand their ability to drive budget-conscious traffic and generate sales.
Does One Channel Deliver More Benefits?
In a word, yes. While both FSIs and ROP can be an important channel in your overall campaign, in a head-to-head matchup, FSIs offer more advantages. Here are a few:
FSIs Give Consumers Exactly What They Want
At some point in your life you've probably sat down in front of a thick Sunday paper and immediately reached for the inserts to help you plan your weekly shopping trip. You're not alone; many newspaper readers look forward to thumbing through the FSIs on Sundays as well as during the week because it gives them a chance to window shop and to do their weekly budgeting. In other words, advertising with FSIs means you get your offer in front of the people who are looking for it.
Highly Targeted
When placing many other types of ads, both print and digital, the only thing generally taken into account is consumer demographics. But effective ad placement must also take into account geographical data as well. When we conduct an insert buy for a client we are able to use geospatial intelligence mapping and input a single ZIP code, entire city, market or region for the most precise targeting. This allows us reach just the right consumers for our clients.
Impressive Flexibility
The more flexibility advertisers have with their ads, the more able they are to deliver a highly impactful message. FSIs let advertisers choose between single sheets, catalogs or cards and also whether ads should be distributed in large or small formats, on heavy or light stock, and on whatever day of the week will best reach their target audience.
Inserts Are an Action Medium
Meaning they get consumers to take action, and that's the whole point of any kind of advertising, isn't it? According to the NAA's How America Shops and Spends Survey, 44% of respondents said they brought inserts into the stores with them, and 44% also said they used inserts to make unplanned purchases.
The Bridge between Print and Digital
Like peanut butter and chocolate, print often goes better with digital, and with the emergence of QR codes and personalized URLs, there's never been a better time to connect your print campaigns to your digital assets. FSIs are a great way to create a bridge to your online landing pages where you can further engage your audience.
There's no question print advertising in general offers small businesses a highly effective way to reach their local market. FSIs, in particular, have the ability to drive traffic and create brand awareness while targeting a highly-focused demographic that is ready to buy.
RELATED POSTS: