At some point in the life of a company, the brand may have gotten off track. This can happen for a variety of reasons, including poor market research, bad consumer reviews and overall mismanagement of reputation by the marketing/PR team.
Brand audits can help determine which qualities of your brand are currently effective and which are not, and redevelop your messaging goals so your campaigns can produce better results.
These are some of the things you'll want to look for during an audit:
The standards of your brand image and voice
The demographics of your target audience
Your company objectives and mission
The strategies you employ to reach your goals
Once you have a good understanding of what's currently right or wrong with your brand, you can create an action plan to readjust your standards and a marketing strategy to support it.
The Action Plan
Now that you know why you should perform a brand audit, let's dive into the HOW of it.
Step 1: Brainstorm
Your first step is to take some time to brainstorm all of the areas that directly or indirectly relate to your business. These could be things like the purpose of your website and printed collateral, your brand's main competition, your target market and product/service niche, current and anticipated industry trends, and your specific differentiators like price and quality of service.
Step 2: Look at Your Data
You'll want to get your hands on as much analytics as you can and scrutinize it for any clues. This data can include things like website traffic analytics, bounce rate, pageviews, clickthrough rates, tracking and promo codes for printed material, and overall conversion rates.
When you analyze this data, look for any clues as to what you are doing well, and what could use improvement. How are your response rates? Are emails getting opened? In general, are your conversion rates increasing or decreasing over time?
Step 3: Get Customer Feedback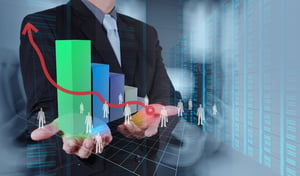 So far, you've analyzed some important data to understand the performance strength of your brand. This has given you a good bird's-eye view. But to really understand the overall health of your brand, you'll need to hear directly from your customers on how they perceive and speak about you.
Consider running an online poll to get a quick gauge on how your customers feel about you. Keep it simple, polls usually consist of one single question. You can run different polls for each question you want to ask.
Here are some example questions to get you started:
Did the customer service representative handle your call quickly?
How would you rate our website based on ease of navigation?
Please rate your overall experience on our website?
Why did you decide to do business with us?
You can create a poll through Facebook or use a simple DIY website like EasyPolls.net to create some.
An online survey can help you get a more comprehensive assessment of your brand. You can hire a research firm to carry out a physical survey on your behalf or do it yourself using an online tool. Obviously the second option is more budget-friendly.
You'll never be able to get all of your customers to answer your survey, obviously, so your goal should be to gather feedback from at least 50 users of each target market.
Once you have completed the survey, compile the results, paying special attention to the language your customers used to describe your brand. Jot down any common themes or repetitive language that was used. You should consider testing your customers' language in your marketing materials. It will most likely resonate with other prospects.
Step 4: Take Action
A brand audit is only good if you take the insights you've gleaned and put them to action. Be sure to create a detailed report of your findings and set actionable targets to address the issues. Just make sure you set realistic expected results and timelines.
Whether your audit's results demand a full rebrand or just a handful of simple adjustments, it's important to follow-up over the course of the next few months and measure the impact of your efforts. Only then will you be able to determine whether the rebrand was successful, or if further adjustments are necessary.
Brand audits should ideally be conducted every few years to measure your perception against your goals.