Summer is a special time of year. The weather is nice (okay, except for some of that humidity), kids are out of school, families take vacations, and people, in general, are in pretty good moods. And that means they can be extra receptive to your offer. If you can get it in front of them. But that can take some creativity on your part.
Not to worry, here are some summer marketing ideas to help small business owners this summer.
Leverage the Season in Your Marketing Materials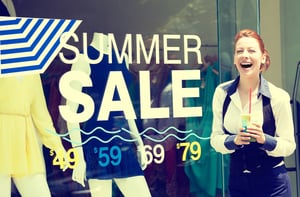 Whether it's your email newsletter, flyers, or website, look for ways you can incorporate summer themes into your marketing collateral. It could be as simple as switching out the imagery on your website to include summertime scenes.
Also, beyond showcasing your summer specials, be sure to offer relevant information your target customers will want. This could mean offering summer recipes, summer skincare ideas, or summer pet care information.
And finally, summer-ize your marketing collateral by offering promotional items like Frisbees, beach balls, and drink coolers. These items will keep your brand top of mind all season long.
Take Part in Community Events
Most small towns and big cities host summer events like music festivals, arts & crafts shows, outdoor movie nights and concerts in the park. This is a great way for you to make a lasting impact.
Contact your local chamber of commerce to get a calendar of events, then decide which events will most likely attract your ideal customer, whether that's empty nesters, health-conscious mothers, or music-loving millennials.
Once you know which events are right for your brand, consider sponsoring the events in return for your company name on banners and programs. Depending on your budget, you could also host a booth at the event and give out free samples or sell your product. If you go this route, be sure to collect contact information. You could have a signup sheet or a fishbowl to collect business cards.
Join Forces with Other Local Businesses
You can host an event in your local town far easier when you do it with another business or two. Connect with other business owners and brainstorm some ways you can drum up some extra foot traffic this summer. You could have a sidewalk sale or a tasting of some sort. Close off traffic and host an arts fair or street musicians jam on your street.
Just be sure you work with your local authorities to get all of the appropriate permits.
What if Summer is Normally Your Slow Time of Year?
If summer is traditionally a slow time for your business, there are a couple of things you can do:
1) Use Promotions to Drum Up Some New Business
Nothing gets that foot traffic in the door like some good ol' fashioned financial incentives. Consider one of the following options:
Discount slower selling products – Offer a limited-time discount to see if you can move some of your slower-moving inventory. The limited time could be a day, a week or a month. Be sure to promote your offer to a select segment of your email list (perhaps your best customers, or even customers who haven't purchased from you in some time). Monitor your results. If the promotion worked, consider extending it to other products and customers the following week/month.
Packaged Discounts – You can also offer customers a discount when they buy more than one product. For instance, when they buy a medium pizza and a 2-litre drink, they pay only $7 instead of $9.50.
Think Off-Peak – As I mentioned earlier many people take vacation time during the summer, so their hours are more flexible. Think of ways you can draw in customers during your off-peak hours. For instance, you could promote a BOGO special if customers come in between the hours of 6PM and 8PM.
2) Plan for Your High Season
If all else fails and you can't quite get that foot traffic in your doors, use this off-peak time wisely by planning marketing activities for the rest of the year. A slow summer is a great opportunity to conduct market research. Use this time to find out what your customers think of your products or services. How is your pricing? What could you do better? Can you see any trends coming down the pike that could affect your business?
If you've never conducted market research before and are uncertain how to go about it, the US Small Business Administration has some helpful guidelines.
Summer is a great time to have some fun with your marketing, so give these ideas a go.
What other sorts of summer marketing ideas have you tried in the past? Share your ideas with us in the comment section.