Are you finding it harder to gain your customers' and prospects' attention through your regular digital media channels? It's no wonder. On any given day, consumers are being bombarded with messaging and doing their darndest to tune it out.
For example, more and more people are using some kind of app or browser extension to block banner and pop-up ads. Emails that even hint of a promotion are quickly deleted, and advertising that has been dressed up to look like a native editorial is getting seen for exactly what it is – a longform ad.
With more and more consumers feeling bombarded by brand messaging and tuning much of it out, what are marketers supposed to do, throw in the towel and give up? That's hardly an option.
No, there are more traditional marketing channels that are still extremely effective at reaching your audience. And the best news – they can't be blocked!
OOH – Something Old is New Again
Out of Home advertising (OOH) is not a new channel. In fact, it's one of the oldest forms of media that has been around since the mid-1800s. Back then, you'd find a lot of circus posters and horse-drawn streetcar adverts all over cities.
OOH has lasted so long because it is effective and because it has evolved and adapted over the years. In the last decade alone, we have seen great OOH innovations, which have helped advertisers take their messaging even further using a dynamic mix of billboards, digital displays, placed-based media, transit and cinema.
This means marketers can use one of the oldest channels around to get their messaging in front of people in new and exciting ways.
Still Not Convinced OOH Should Have a Spot in Your Marketing Mix?
One of the things that's so effective about OOH is that it has the ability to reach masses of people no matter how they individually prefer to consume media. Think about it: on average, most people spend roughly 70% of their day outside of their home. This, you'll have to agree, is a big chunk of their time.
And while they may prefer to see ads on their mobile phone or in the newspaper, they simply can't help but see a billboard or digital display while out and about in their local town or city. Studies reveal that a large majority of people notice billboard ads and take action because of them.
Simply put, OOH is the only channel that is always on and present, can't be blocked by a piece of software or innovative workaround, and, creatively speaking, is incredibly versatile. Adding OOH to your media mix can extend your reach and drive consumers to engage with your brand both online and in your physical location.
Tips for Planning and Launching an Effective OOH Campaign
If you aren't currently using OOH in your media mix, we hope this article has opened your eyes to the possibilities. Here are some tips on launching your OOH campaign to ensure your efforts are effective.
When it Comes to Cost, Think Strategically
No matter what advertising channel you're employing, your budget will have a significant impact on location, format and frequency. This is no different when buying OOH ads.
For instance, a small hotel on Long Island most likely won't have the budget for a large digital display in the middle of Times Square. But a smaller digital display at LaGuardia airport could be the perfect (and most cost-effective) solution.
Get creative and strategic to think about the best way to leverage your OOH budget.
Where is Your Market?
You'll need to do some research to determine where your ideal customers are most likely to see your OOH ads. If your prospects are very local, then you'd want to place your ads where this local group of prospects frequents such as on local buses or bus stops, at the mall, or along main surface streets. To throw a wider net, consider using highway billboards and sports venues.
Don't Forget Traffic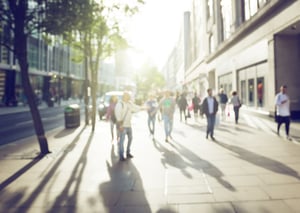 In order for your OOH campaigns to be successful, you'll need a large volume of traffic, either motorized or foot traffic. Don't be dazzled by your engaging digital ad display just because it's digital. If very few eyes end up seeing that digital ad, your budget will have been wasted.
The moral of the story? If a media publisher is trying to sell you a dirt-cheap digital ad, don't be fooled or charmed – find out exactly where that display is located. Most likely it is dirt cheap because the display is located at the end of a hallway in a remote part of a regional airport an no one will see it.
Size
Always make sure your OOH ads are appropriate in size as they relate to the particular location and are clearly visible to your target audience.
Consumers are getting harder to reach and yet are clamoring for even more engagement from their favorite brands. OOH not only offers multiple touchpoints throughout a consumer's day, it also offers innovative and cost-effective ways to deliver relevant messaging that drives action.
Need any help with your OOH campaign? Get in touch with us. We help business owners make the right media buying decisions that will deliver solid results at a price they can afford.