Halloween is almost upon us, which means most of my neighbors put up decorations back in August. The only thing scarier than the incredibly early date these decorations were placed, is how crappy most of them are. But I've learned that even crappy Halloween decorations can have a fun element to them.
The same can be said for Hollywood's "scary" monsters. Not all monsters were created equal. Some are actually scary, like the Nun character, and others are pretty darn laughable (I'm talking to you Pinhead – though you'd make an excellent necklace holder).
Whether they are scary of crappily funny, it turns out many of Hollywood's monsters can teach us a thing or two about print marketing.
The Blob
There were two blobs – the original from 1958 and the remake in 1988. Both were equally ridiculous. If you haven't seen either of the movies, the blob is a huge ball of what appears to be strawberry jelly, and it somehow, without legs, can chase you and basically pull you into itself where you die what is presumably a slow and painful (and perhaps sticky?) death.
Lesson: Your content should be so engaging that it sucks your readers in.
Cyclops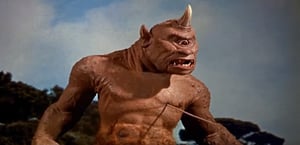 Apparently movie audiences in the 1950s were a tamer bunch and were terrified when watching "The 7th Voyage of Sinbad", where this cyclops appeared. I personally think this creature is adorable and looks to have at least 4-pack abs. Sure, he only has one eye, but at least you always know where to look.
Lesson: Always be focused on your overall marketing goals and objectives.
Count Dracula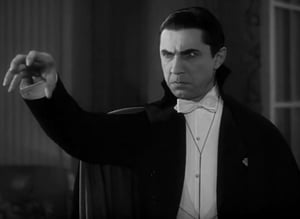 Bela Lugosi could be scary, for sure, and he had really good eyebrow game. Of course other actors have played Dracula over the years. This monster is definitely one that has caused me to wear a turtleneck on a hot summer's day.
Lesson: Sucking can be a good thing, as long as you learn from your mistakes. It's important to start small and constantly test your ads before rolling out a major campaign.
And always track results.
Jaws
I will admit, I couldn't even swim in my pool for weeks after seeing the first jaws. What's so scary about this monster is that it comes out of nowhere. Like right before it attacks, everything seems so calm and lovely. All of the characters in these films were always just having a nice day at the beach with friends and family when WHAM – death.
Lesson: There is something to be said for an element of surprise in your marketing pieces. These unexpected moments hold a reader's attention.
Wolfman
This monster is so effective because it hints at the inner monster in all of us. Every human being, when pushed, can be inspired to be bad. The wolfman is just a normal guy until a full moon, and then he becomes something unstoppable – albeit very bloodthirsty and violent.
Lesson: Could your print collateral use a transformation? Is it just sort of… normal now and not making much of an impact? Conducting a content marketing analysis will help you turn your content into something unstoppable.
Frankenstein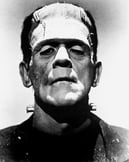 Granted, Frankenstein was not the brightest bulb in the garden and he wasn't the world's best conversationalist. But he did alright considering he was made out of various dead body parts that were all sown together to make one man.
Lesson: Integrated marketing combines multiple print and digital channels to deliver one cohesive marketing message to the right audience at the right time. If you haven't experimented with it, now's the time.
Freddy Krueger
Have you seen all of the Nightmare on Elm Street movies? If so, you know this guy very well. Not only was I scared to fall asleep when I saw the first film, but Freddy's extremely burnt face made it hard for me to eat pizza for a while.
Lesson: Don't get burned – work with a media buyer who can negotiate the best spots and prices for you.
If you find conducting research, analyzing data and creating campaigns from scratch a scary proposition, get in touch with us. We take the fear and uncertainty out of print marketing.