Marketing budgets typically vary based on the industry, size of the company, and its specific campaign goals. What tends to be the same across all businesses, no matter the size or vertical, is that having a budget and a healthy ROI is essential to lasting success.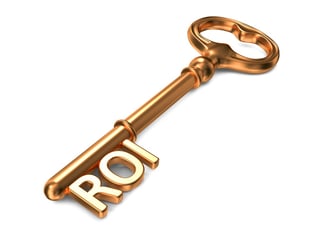 As we head into a new year, we thought it would be a good idea to take a look at the steps small business owners can take to determine where their ad spend should go in 2018.
Step 1. Get Organized
You've got to get financially organized so you can easily determine what your marketing needs will be. Once you collect your financial data, it will help you uncover any holes in this past year's marketing campaigns as well as help you predict the gross revenue gains in the coming year. With this information you'll also be able to identify which areas of your business have been neglected and could use a bigger allocation.
Step 2. Identify Your Goals
Once you have your finances in order, you'll be better able to determine how much focus you'll need to give each marketing channel. Will you need to spend more on social media, website building, design, SEO, or content marketing in the upcoming year? Once you figure this out, you can begin to develop actionable steps, such as:
Developing a social media campaign around a new product launch
Increasing SEO to rank higher for certain key phrases
Updating outdated content on your website
Designing new print collateral for tradeshows
Creating video content for your Youtube channel
Step 3. Determine Your Ad Spend
At this point you'll have to take into account the size of your budget and organization and set realistic goals. For instance, a start-up, less than a year old, will most likely have a very small marketing budget and will want to focus on leveraging as many free channels like Facebook and Instagram as they can.
Businesses that have three to five years behind them will want to consider using a sizeable portion of their gross revenue on print and digital marketing. This is a key time in a businesses' life to boost familiarity of their brand with consumers, and a larger budget will help do this.
If you're an established company and have a healthy budget, consider allocating a substantial amount of your gross income on brand marketing (email marketing, PPC, content campaigns). If you have many competitors, it is also advised some ad spend go toward brand reputation management.
Step 4. Hire a Media Planner
CFOs face a lot of pressure and are ultimately accountable for their marketing investments and getting the best return possible. This is where a media planner can help.
Why hire a media planner?
Because these professionals are skilled at planning, research, pricing, negotiating, ordering, and launching successful campaigns. Once you've done steps one, two and three, you will have vital information that your media planner can then run with.
Imagine the new year being easier and more successful because your media planner will:
Plan Your Budget
Sure, you can go through the first steps and hope for the best, or you can get a second pair of trained eyes to look at your budget and make any necessary adjustments needed to succeed. A media planner will be able to look at your budget and goals and determine quickly the advantages and disadvantages of various channel options.
Get You the Right Price
Only a media planner will be able to negotiate competitive rates with both print and digital publishers. Really good media planners will be able to find ways to stretch your budget and make every single cent work hard for you.
Place Your Orders and Oversee Production
You hardly have time to run and grow your business AND meet time sensitive order deadlines. A media planner will also be able to verify rates and schedules for you before launching a campaign.
Your media planner will also coordinate the design, production and proofing of your campaigns, which will ensure your messaging is correct and consistent across all channels.
As you head into the new year and begin to think about the best way you can spend your marketing budget, consider using some of that budget to work with a media planner. The money you spend up front will ultimately provide you with professional guidance that will ensure you get the most bang for your buck.