According to research firm eMarketer Inc., less than 2% of all U.S. marketing dollars will be spent on mobile advertising this year. I know what you're thinking. What's a measly 2% of the overall marketing budget? A whopping $2.6 billion, that's what. That's a whole lot more than I have in my wallet right now and three times larger than the marketing dollars spent in 2010. The money being allocated to mobile advertising is increasing, just as the number of smartphone users is increasing each year. eMarketer has forecasted there will be 137.5 million smartphone users in the U.S. in 2013. That's almost a 20% increase from 2012. Take a look at the chart to see the number of smartphone users forecasted through 2016. Maybe 2016 will be the year I'll finally take the smartphone plunge. Only time will tell.
The average mobile ad costs $2.85 to reach 1,000 smartphone users. That's cheap in comparison to running traditional television media o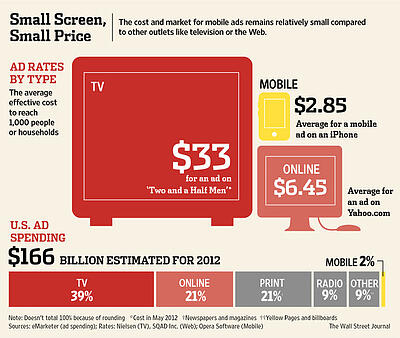 r even a standard online display ad. According to the Wall Street Journal, a television spot during 'Two and a Half Men' carries a $33 CPM, and the average cost for an ad on Yahoo.com is $6.45. Take a look at the infographic for additional ad rates by type and the estimated U.S. ad spending for 2012. If mobile advertising is more affordable, then why isn't it being used as often as the other outlets? I bet you were wondering the same thing. While mobile may not be for everyone, for the right product, service or demographic, mobile can be the most effective medium.
I think we can all learn a thing or two from Google when it comes to mobile advertising. Google is knocking it out of the park by earning 56% of all mobile ad dollars and 96% of mobile search ad dollars, according to eMarketer. With some elementary-level math we can see Google has left 44% of mobile ad dollars and 4 percent of mobile search ad dollars for the rest of us to share. How generous.
Click-to-call advertising has been extremely effective for Google, so we should probably follow Google's example and up our mobile ad spend in that area. Thanks to the mobile world, today's advertisers have the ability to track the location of their potential customers with click-to-call. When a smartphone user searches for a particular product or service on their phone, oftentimes they are searching for the nearest place to purchase it. Knowing where their customers are located enables adverti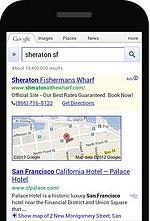 sers to target them effectively while driving traffic to their restaurant, hotel, retail store, etc. It is increasingly important to think about mobile ad placement and click-to-call ads take advantage of smartphone screen size. What works on a computer screen isn't always the most effective way to reach customers on the go, with their smartphones attached at the hip and hand. Going local gives users instant access to find what they need when they need it. You've heard of SoLoMo right? Although Google is on track to earn $8 billion from a combination of mobile advertising, apps and content in the coming year, they aren't the only company earning the big bucks. Facebook earned $150 million from mobile ads in the third quarter of 2012 and Zuckerberg told Wall Street they are just getting started.
What mobile strategies are working for your business? Will you be allocating more advertising dollars to mobile in 2013? Tell us in the space below. If you want to learn more about the importance of local advertising, and why it needs to be part of your mix, download our report on the 10 Benefits of Local Advertising.
Hannah Hill is a marketing specialist at Mediaspace Solutions. Her marketing experience includes writing, social media and event management. You can connect with Hannah on LinkedIn, Facebook or Google+.