Online video advertising is exploding. Are you part of the 86% of advertising executives who are moving their marketing dollars in this direction? If online video advertising still hasn't become a line item on your marketing budget (or it falls victim to a line item veto from further up the food chain) take a look at these statistics from September.
According to data from comScore's Video Matrix service, Americans viewed 9.4 billion online video ads this past September with each of the top five video ad properties (Google Sites, BrightRoll Video Network, Hulu, LiveRail and Adap.tv) delivering more than one billion video ads. Viewers spent 3.4 billion minutes watching online video ads during the month of September. That's equivalent to 2,361,111 days or 337,301 weeks of online video advertising. Did you realize we watched so many video ads in September? Neither did I.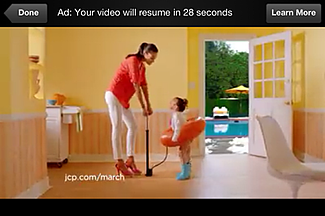 Volume is one thing, but also keep in mind the data goes on to show 51% of the total U.S. population was reached by online video ads about 60 times in September with Hulu delivering the highest frequency of ads to its viewers. While watching an episode of Parenthood on Hulu this past weekend, I saw one particular ad again and again. Advertisers know repetition is important and helps to create brand awareness and yada yada; however, a little ad variety would increase my attention span (and keep me from becoming annoyed). That's just my two cents. So who is doing it right? The top five online video advertisers of all time are Proctor & Gamble/Old Spice, Google, Nike, Samsung and Blendtec, each with more than 200 million views. Visible Measures ranked these advertisers by ad reach and I'm sure you remember a few of them. Take a look. Maybe you'll be inspired to create the next big hit.
When considering your move into online video advertising there are definitely some dominant technology players to consider partnering with. The ad property delivering the most minutes of video ads was BrightRoll Video Network with 681 million minutes. You have to be asking what the big draw is to online video advertising. In a BrightRoll survey conducted earlier this year, 64% of advertisers said online video advertising is just as effective, if not more effective, than traditional TV advertisements. Unlike TV ads, online video ads are clickable which can lead to a quicker conversion rate. That being said, the most valuable aspects of online video are targeting capabilities and reach, respectively. "Developing engaging and targeted online video advertising campaigns is a key strategy for a growing number of brands as they seek to offset the fall in TV ad engagement and leverage the rise of online video," said Peter Ostick, managing director at The Video Network.
There is no sign of this train slowing down. Online video advertising is expected to grow at a compound annual rate of 39% now through 2017 when it will reach $442 million, according to Frost & Sullivan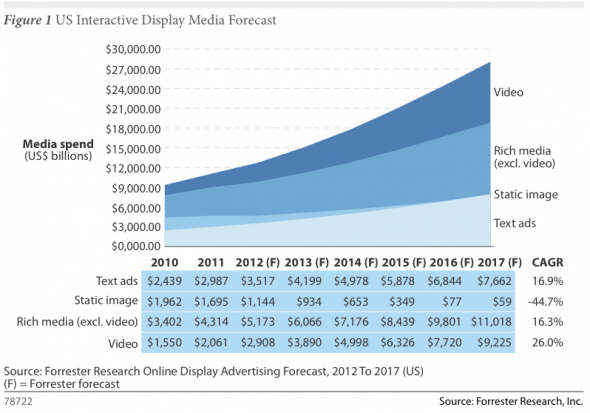 . This growth is largely a result of increased tablet use. Nearly half of all tablet users watch TV shows or movies on their tablets at least once per month, thus reducing their TV watching time. Honestly, I don't remember the last time I watched a primetime television show on TV. Phil Harpur, a senior research manager at Frost & Sullivan, said: "The online video advertising market grew by 58% in the 12 months to June 2012 to reach $86 million, faster than any previous year. A growing number of 'light' TV watchers are now watching online video across a range of devices while 40% of tablet owners are accessing their tablet as they watch traditional TV, always or most of the time." Let me know what percentage of your TV show viewing happens on your tablet.
The comScore data tells us that you are being exposed to billions of video advertising minutes, but the question is: Have you considered advertising your business with online video? Eighty-six percent of ad executives are shifting some portion of their display dollars to online video. I can't place enough importance on creating complementary print and digital advertisements. An integrated marketing campaign is most effective, so download our eBook 'The CMO's Guide to Integrating Print and Digital Media' and get started today.
Hannah Hill is a marketing specialist at Mediaspace Solutions. Her marketing experience includes writing, social media and event management. You can connect with Hannah on LinkedIn, Facebook or Google+.